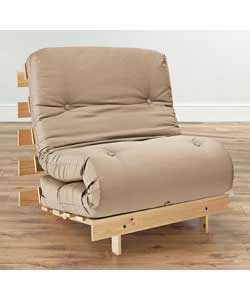 We all find great use for a futon at one point or another, whether we are adding a small dayroom, furnishing a first apartment or a small efficiency or studio apartment, furnishing a dorm room, or giving our children or teens a new bedroom look. The great thing about a single futon is that they provide a comfortable bed when needed, quickly converting into a sofa when you are awake. This can convert a small bedroom into a small home office, or even a small den.
Whatever the use, there is a great selection of these sofa beds made for one; there are also various price ranges depending on the style and type of daybed you choose. Typical prices for single pull out sofas used range anywhere as low as $50 to generally around $200 for a really nice one. New futons can range anywhere from$150 up to $2500 for more high-end models and traditional classics. Choosing the right single bed sofa sleeper should consider your budget, use, style desired, and who you are buying for.
Styles and Models
A single futon bed can come in so many styles; you simply have no choice but to find the right one. There are some single bunk bed futons that are great for kids, teens, and even college students. With the top a constant bed, the bottom turns into a sofa offering extra space when the bed is not in use. This type of futon costs anywhere from $250 to $2500 for traditional styles such as the Classic Log Bunk Beds, with less expensive log bed styles for around $1900. There are two-seater single daybeds as well that are great for guests, small efficiency or studio apartments, or college students living in a cramped dorm. These can cost from $150 to $500, really depending mostly on the condition, brand, and the dealer bought from.
There are several specific styles such as the Flex, Elite Metal, Paris, and the Madrid styles that offer an elegant comfort with more contemporary style and prices ranging from $150 to $330. A great style sleeper sofa is the single twin storage sofa bed that offers a great, homely comfort and style with several fabrics and colors to choose from, with storage capacity and a comfortable bed conversion for around $700 for more high-end models, as low as $300 for more basic models. There are also chairs and ottoman combinations that can be purchased for $200 or less that when pulled out form a single bed.
Types and Colors
Just as sofas can be selected from several materials and colors, the same applies for a single futon mattress. For more inexpensive single convertible sofas, there are various metal types to choose from. These types of sleeper sofas are useful as bunk beds for younger children as they can be attached though inserts and detached for single use later on. They are also the most durable and long lasting of the futon beds.
A more contemporary mixed with traditional type is the wooden frame that comes in many different varieties of wood such as cherry and ash and can be in various designs such as elegant or basic. These are the most desired for living rooms, small dens, and small apartments and efficiencies as they look quite graceful while providing the convenience of a futon sleeper. This type generally costs a bit more than the metal type but are quite durable. Colors can be chosen from natural to modern and can match any color scheme with several futon covers also available for customization.
There are various venues for purchasing single futons. You can definitely find great deals online through various outlets, warehouses, and even individuals selling used daybeds for very low prices, even as low as $50. There is a great deal of sources to find coupons and discounts for these sleeper sofas. There are also great retail outlets located locally that can have various sales as well offering the chance to get one of these great sleepers for a great price.
Related Posts