There is perhaps no type of bed that has been targeted to children more than the bunk bed. There are several logical reasons for this. Childrens bunk beds are ideal for providing enough sleeping options for rooms that need multiple beds, as kid's rooms often do. This allows for several beds to occupy a room without taking up the floor space that regular beds would require. Bunk beds for children also tend to be more economical in the long run than traditional beds for children. The cost of buying one set of children's bunk beds is usually less than buying two individual beds, regardless of the style or quality.
The idea for bunk beds for children is based on the concept of the cot. Cots have always been seen as the economical way to provide sleeping quarters, especially when large numbers of people must be accommodated in limited spaces. This application has historically been used most often in military settings, dating back to the earliest days of trans-oceanic fleets of ships that had to sleep large numbers of crewmen in the smallest amount of space possible, in order to leave as much room as they could for carrying goods in the hold.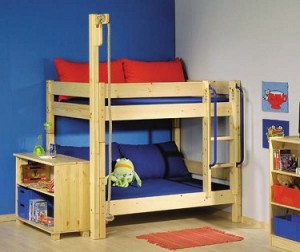 Aboard ships, the sleeping arrangements would amount to a stacking approach. Individual hammock-style beds would be hung one over the other, attached to the walls of the ship in the crew quarters. In this way, most if not all of the crew could be provided beds without taking valuable deck space, which was needed for cargo as well as for general access to and from the various decks and quarters within the ship.
This concept is still in use today by most of the naval fleets of the world's militaries. This is true for every kind of ship, from submarines to carriers. There is no more practical and economical way to provide beds for hundreds of crew members at a time than bunks and this idea was eventually adapted into the style of bedding known as children's bunk beds.
Bunk beds for kids come in a wide variety of styles, distinguished by the quality of the mattresses themselves as well as the quality of the materials for the bed frames. Perhaps the least expensive type of bunk beds for children are made of metal, with a minimum of railing and support structure to cut down on material costs in the making of the unit. The price goes up from these simple designs to more expensive wood bunk bed sets of varying qualities of wood to the most elaborate – and most expensive – deluxe twin over twin or twin over full size bunk beds for kids.
The least expensive metal bunk beds for children vary in price, but the average for a twin over twin type with a minimum of material and the least expensive mattresses will be at around $400 to $500, retail. This price will often be reduced to sale price figures for fast product movement. This is not such a difficult sale to make, due to the popularity of bunk beds for kids. For sale pricing, a simple twin over twin metal bed – with the most basic of ladder designs and no storage capacity – can be found for as little as $171. This is an incredible price to pay to be able to sleep two children in the floor space of a regular twin bed.
Prices for children's bunk beds go up as more options are included. The way in which a child reaches the top bunk is most often a ladder and this can be a simple round-rung type that is attached to the frame of both the lower and upper bed. The choices from there include an angled ladder that reaches from the top bunk to the floor without being attached to the bottom bunk. This type infringes less on the bottom bed and the risers of these better designs will have flatter rungs that are often padded. A metal twin over twin of this type can run from $201 to $323, sale priced.
Wooden childrens loft bunk beds for children are another dividing line for cost. Naturally, beds made from wood will cost more. Even the most basic of wooden bunk beds for kids will be at least $100 to $200 more than metal beds of similar designs. A very simple wooden bunk bed for kids, with a minimum of wood-shaping and painted in flat white or black, can cost $449 on sale. As the size of the mattress increases, so does the price. Many children's bunk beds are offered in a twin over full style, running anywhere from $790 retail for a metal version to as much as $1000 retail for a twin over full made of high quality wood with storage and deluxe wood carving designs.
The most expensive kind of children's bunk beds will be the full over full mattress size, complete with extensive storage options, deluxe ladders and premium wood-shaping designs for head and foot boards. Many such beds also offer a privacy option for the lower bunk, such as a curtain that can be drawn. The lower-priced beds of this type will cost around $600 or $700 and can often be found on sale for less than $450. The more elaborate full over full bunk beds for children can retail for well over $1000, sometimes costing as much as $1998 before taxes. This is quite an investment to make, but the benefit of sleeping two children in the space normally required for one is still a good reason to buy one, regardless of the style or cost.
One of the newer innovations in children's bunk beds are futon-style beds. The futon overall has enjoyed a high level of success, due to the ability to use the bed as both a sofa and a bed. The folding characteristics of futons in general have made them very popular and there are now several styles of futon bunk beds for kids. Prices vary depending on frames and mattresses and the least expensive futon bunk beds for children will usually start at around $420. The cost rises from there, depending on wood or metal and mattress size choices. The most expensive wooden futons for children's bunk beds can run up to $700 or $800 and can be found on sale for as little as $540.
Related Posts
<>