One of the most popular furniture items for children's rooms are bunk beds. In particular, metal futon bunk beds are a good choice, due to their durability, value, and modern style. There are several popular types of metal bunk beds to choose from. Some popular bunk bed styles commonly made in metal include:
Twin over Twin: The traditional bunk bed style is a twin over twin bed. This is a good choice for families who need two beds in a small space. Metal twin over twin bunk beds are made mostly of a tubular steel which can be powder coated in almost any color from basic gray to bright primary colors. Metal twin over twin beds are sturdy and can hold up to a lot of wear and tear, yet are one of the most affordable styles of bunk bed, making them a popular choice for families with small children. This traditional metal bunk bed ranges in price from $200-500, depending on the retailer.
Twin over Full: Much like the standard twin over twin bunk bed, a twin over full is a bunk bed style that works well when multiple children are sharing a room. The top bunk is a standard twin sized bed, and the lower bed is a more generous full-sized bed. For guests, or an older child or teen, the full bed is a more comfortable choice than an smaller twin bed. Metal twin over full bunks are slightly more expensive than a smaller twin over twin style bunk beds. The average price of one of these beds ranges from $300- 600 depending on style.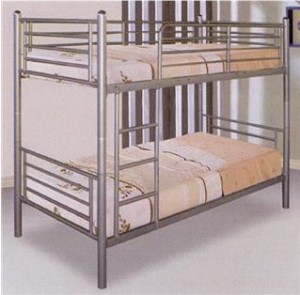 Twin over Futon: With a twin mattress above and a convertible futon below, this style of bunk bed is a versatile one. Metal twin over futon bunk beds have a modern, industrial look. The futon on the bottom of the unit is similar to a stand-alone futon, with a metal frame that unfolds from a sofa form to a full-sized bed frame. This style of bed is ideal for a small apartment or dorm room where space is at a premium and furniture needs to serve multiple purposes. Because of the integrated futon design of this bed style, prices are higher in general for futon bunk beds than they would be for a bed with just a simple mattress. The price for a futon metal loft bed starts at around $300.
Other options: One of the biggest advantages of a metal bunk bed the wide variety of features that can be added to a simple loft bed. Beds can be purchased with a simple loft bed above a desk, or with complex configurations that include desks, dressers, and even bookshelves. Prices for a simple loft can start as low as $200, and each additional component that is added to the frame adds to the price of the finished metal bunk bed.
All of the futon styles above can be found in wood, metal or composite materials. Out of these three choices, metal frame bunk beds have several advantages over other materials. Metal bunk beds are lighter in weight than their wooden counterparts, and are easier to transport and assemble. This means they are also easier to move once they are assembled in a room, unlike wooden loft bed ensembles which are extremely heavy. When purchasing a bunk bed online, this lighter weight can translate into signifcant savings on freight and shipping. Metal loft beds are also easy to assemble, with only a few pieces of hardware needed to put them together. Finally, metal bunk beds are very sturdy. Metal bunk beds are most often made from poured tubular steel, a material that does not warp or bend. When it is powder-coated, the coating is scratch-resistant and keeps its color for many years. The biggest single reason that most consumers choose a metal futon bunk bed is that they simply prefer the look of metal over wood. Metal bunk beds have clean, modern lines and fit in well with contemporary decor. As a contrast, wooden bunk beds are generally bulkier than their metal counterparts, and are more suitable for a traditionally-styled room.
No matter what style of metal bunk bed best meets a consumer's needs, it is important to look over the safety features of the beds. It goes without saying that small children should never be placed in the top bunk. Older children benefit from safety railings to prevent midnight falls. Bunk bed ladders should be checked frequently to be sure that screws and connectors have not become loose with wear. Finally, it is a good idea to fasten large pieces of furniture to walls to prevent them from tipping over onto small children.
With their versatility, affordable price, and wide variety of styles, metal bunk and loft beds can be a furniture investment that will be treasured by a family for years to come.
Related Posts