With the ever increasing crime rates, it has become essential for us to adopt extra measures for protecting our homes. Home surveillance systems are absolutely essential for keeping your family and personal belongings safe. These home surveillance devices help eliminate all such vulnerable points and potential 'entry spots' in your house that could be appealing for intruders.
True, these security measures are somewhat costly and complicated, but then again, who isn't willing to spend a little extra for enhanced security and protection of their valuables. If security and protection weren't so important, why would we be spending so much on having our valuables insured? Where all such measures as insurance plans protect you in the aftermath of any untoward incident, surveillance and security devices prevent the act from happening at the first place.
Nowadays, home surveillance security systems are one of the top priorities of homeowners. Not only do they make your home a safe haven, but in the event of a theft or robbery, they also aid the security personnel in the detection of the burglars and ultimately, in the recovery of your precious valuables. There are many cases where people have been able to get back the stolen goods with these systems.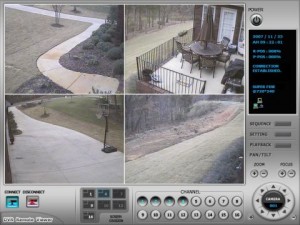 By installing burglar alarms at several places, you might feel secure within your home premises. Alarms are an excellent tool for warding off intruders. However, complete home video surveillance systems equip your home with enhanced security tools and devices that are nearly impossible to breach.
Fully loaded security systems can detect unauthorized entries. Hence, they are capable of successfully preventing the intruder's entry. The alarms, on the other hand, work only during or after the break-in. The best part is that video surveillance cameras installed in the house can identify the intruder. This is important because you can ease the burden on the cops by helping them identify the criminal.
As the security situation across the nation is getting more and more worrisome, most homeowners away from their homes are always stressing out. Whether you are at work or on a vacation, you simply can't concentrate or enjoy the pleasant time because you are too worried thinking about what's going on back at home in your absence. By availing an advanced security system, you can put all your worries to rest. Trusted security solutions take away all your worries, and let you breathe in peace.
Home security systems include many equipments such as webcam surveillance systems along with motion sensors, wireless sensors and wireless IP cameras etc.
Webcam Surveillance Systems and Motion Sensors
There are many webcams used for security purposes that combine the features of motion detecting software. These home surveillance camera systems start recording only when some sort of motion is detected in front of the sensors. The process saves a lot of space on your hard drive. In addition to this, it also saves your time because the images that it captures are instantly emailed to the homeowner. So basically, these cameras are memory-friendly and also great time savers. They send you photos of all activities taking place back at home, giving you the opportunity to act fast and call your local security force.
There are a few disadvantages as well. The biggest disadvantage is that the cameras are fixed in specific situations and so the limit is restricted. Moreover, these cameras are USB- based technologies, they cannot work unless they are installed to a computer or USB hub. The range of these cameras is only 16 feet. They capture very dim images of farther locations.
Wireless Sensors
The wireless home surveillance systems available these days usually come with sound detecting and motion cameras. In addition to this, they also have wireless sensors that can notify homeowners about the presence of leakage spots, open doors and abnormal temperature fluctuations. The images captured by wireless cameras are sent to PDAs and computers, even cell phones containing wireless connections. You can even buy motion sensors without the wireless cameras.
Wireless IP Video Camera
Wireless IP video cameras are mostly known in the market as "nanny cams". These teeny cameras are installed for the purpose of spying and they can be hidden anywhere in the room. These cameras send video signals to local base station so the owner of the house can view those images from PDA, desktop computer, laptop, cell phone or television.
One disadvantage of this surveillance system is that the camera is low end and the wireless signals are accessible to individual hackers who cruise streets looking for random wireless signals by homeowners. But you should not worry about this problem because there are higher end cameras that provide more protection. The transmission of these types of cameras is encrypted and is attached with the standard wireless networks.
Many houses are availing home surveillance systems today. The market is flooded with tools and equipment to assist you in securing your home. There will always be more and more technology oriented tools pouring in the market. It is expected that in the future, there will be smaller and more convenient technologies to ensure optimum protection of your household.
Tags: home surveillance systems, home entry phpto survaylancey, pictures of home surveillance, HOW MUCH IS A GOOD HOME VIDEO SURVEILANCE CAMERA SYSTEM FORUM, IP Wireles S61, one disadvantage of surveillance, best home security cameras etc.
Related Posts