Having a home security safe is a prudent idea. Not only will you gain peace of mind knowing valuables are well protected but there may some other advantages like reduction of insurance premiums. The main purpose of any home security device is preventing loss through theft or natural disasters like fires or flooding. Most safes sold for home security purposes are fire proof at minimum. Some are also water or humidity resistant. All feature sturdy and durable construction from heavy duty metals like steel.
Having a safe for home security use is more convenient than keeping a rental box at the local bank. There are no monthly fees plus you can access your valuables anytime you wish. It is easy to keep expensive or irreplaceable jewelry and other precious items handy for use when needed. A home safe is the best place for important documents like passports, birth certificates, marriage documents, precious photos and other items that would be difficult or impossible to replace if damaged or stolen.
Price should not be a deterrent to purchasing a good home security fire safe. There are safes to purchase in every price range. You can obtain small home safes and fire proof locking boxes for well under $100. Large bank style safes may cost over $1000 or much more, depending upon their size and construction. The smallest safe is very inexpensive and imitates a can of pop or other small container but these do not provide adequate protection for true valuables. Home security safes come in various sizes and shapes. It is not unknown for homeowners to conceal a full size bank style safe in the home.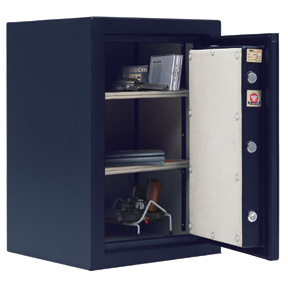 Wall safes are a popular option if your walls will accommodate the depth of the safe. Many are made in a slim style to fit within normal wall construction. A wall safe can be covered up by artwork or any wall hanging. Some units include a covering piece of artwork as part of the safe construction. Floor safes need to be set into a hole large enough to hold the safe diameter or dimensions. They can be covered by furniture or a rug. Many safes are a simple color like black or grey but there are some color choices like deep green that can be selected on some models.
Large safes and built in safes are harder to steal outright or to break into. Using warning signs on exterior doors may help to prevent thieves from selecting your home to rob. Gun safes are especially designed to hold several or many guns safely, along with accessories and ammunition. Use these to keep dangerous items safe from children and visitors. Small media safes are meant to protect CDs and computer back-up disks from damage.
Locks also vary in style. Some safes for home security have digital locks, combination locks, keypad locks or biometric fingerprint lock mechanisms. It is a good idea to keep lock information in a safe place but not necessarily within the safe itself. Some lock styles feature the spin dial mechanism on the front door that is similar to a ship's navigational steering wheel.
Where to locate the safe within the home is a personal decision. Some hide it under a stairwell or in a closet area with a door. Others just set it in the living room or bedroom. It is probably best to keep the safe away from areas where children might play just in case you accidentally leave it unlocked or open. When you do lock the safe double check to assure that it is completely locked. Large safes have heavy doors that can be removed to facilitate moving the safe around the home or to a new location.
Virtually every homeowner should have some type of safe for storage of valuable documents. Even the best protected home can experience a natural disaster from fire, water or windstorms. Having access to important insurance records, personal information documents, cash and photographs can speed up recovery after the problems occur.
Purchase small safes at local stores, locksmith stores or order online from many websites. Large safes will need to be delivered of pick up at store locations. If you order online the delivery should be made right to your home location. Shop around online to see all the different home security gun safe choices you can make and to check out pricing before you settle on a decision. Once you have your safe at home keep the combination very secure and private.
Related Posts