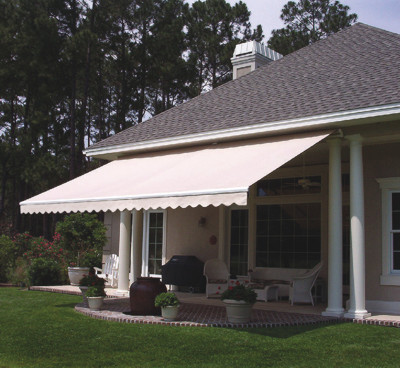 <>
Enjoying some outdoor living has been one of the favorite activities of many households. Usually, this activity increases in frequency during the summer months where the bright sun and cool breeze do their thing best. Basking on the deck and savoring the touch of a comforting zephyr are quite common in some neighborhoods. More so, curling up into a relaxed and lazy-like mood in a serene afternoon atmosphere at the house outdoors can be a big stress relieving moment for many. Being so, open porches, decks and patios are usually the best places to have those activities and many home owners have taken a deal of effort to transform those places into nice house annexes.
One popular home improvement accessory used to create an added living space is the awning. However though, many would also refer to it as a canopy. In any case, whether you call it an awning or a canopy, they would usually mean the same thing in home improvement parlance.
Common Types of Awnings and Canopies
Canvas awnings – These awnings are typically made of canvas material in varying bright colors and attractive patterns. Of all the awning types, these are the ones that cost the least as compared to the other types. In addition, their installation does not require much work and cost. All one has to do is to bolt a suitable frame for the canvas material. These frames, ranging from aluminum materials to wrought iron, can be had at major home stores in varying dimensions that matches the canvas. In many cases, owners of motor homes prefer this type of awning simply because of its lightweight property making it easy to carry along.
If one has to take the motor home to a nice outdoor location, then canvas caravan awnings would be the most suitable choices. However though, an awning made of canvas material will need some consistent cleaning in order to prolong its service life. Being exposed to the outdoor elements (i.e. dust, dirt, bird droppings, atmospheric elements, sun, rain and etc.) can contribute to the deterioration of its colors and tensile strength. Hence, regular cleaning with water and mild detergent can help a lot in its longevity.
Metal Awnings – Perhaps, these are the most durable types of canopies to install and can cost more because of the heavy duty support frames needed on top of the cost of the awnings. These frames are commonly made of aluminum alloys which are highly resistant to rust yet lightweight in nature. But nonetheless, if a permanent canopy is desired, then this type may be a good choice. Galvanized iron materials are also used in some instances. The downside is that it is susceptible to rust especially if proper care and maintenance are not observed.
Retractable Awnings – This is a big favorite among the house owners even if they may cost more than the other types of awnings for the home. Being retractable offers a great degree of versatility and flexibility when it comes to outdoor living settings. If you want to bask under the sun to get a good tan while sipping a cold piña colada, then all you have to do is retract the awning.
In the same manner, you can roll out back the awning if you want to enjoy the house outdoors under a comforting shade or take shelter when the rain comes. There are basically two types of retractable awnings that are available. One is the motorized awning and the other is the manual type. Motorized awnings can automatically be rolled out or retracted by a simple push of a button that controls the electric motor. On the other hand, the manual types usually have mechanisms that utilize a winch instead of a motor.
Choosing which type of awning to use for the outdoor deck, patio or porch mostly depends on the budget and taste of the house owner. In terms of functionality and intended use, they can all basically achieve the desired setting for an outdoor living space and they can also be attractive add-ons to the house exterior too.
Related Posts