Home owners are taking advantage of outdoor space more than ever. Decks and patios continue to be extended to incorporate amenities that were formerly found inside. In the current economy, rather than taking expensive vacations, many home owners are opting for outdoor living that they can enjoy for years to come while they plan on spending more time at home. Decks and porches provide the perfect landscape for effortless entertaining whether you are enjoying a night with a few couples or a casual barbecue for families. Additionally, couples can enjoy a romantic evening under the stars at home or conveniently watch their children play from the comfort of a deck. Something about being outdoors on a beautiful deck or patio makes people feel like they are on vacation without leaving their backyard.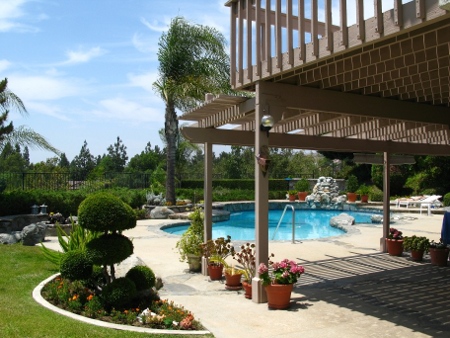 Popular Trends for 2010 When Expanding or Building a Deck or Patio
According to a March 2010 article in Home Remodeler, the American Society of Landscape Architects (ASLA)conducted a survey of current trends for 2010 for outdoor living space. Generally, the survey indicated that outdoor kitchen space is popular, but home owners are choosing more basic options that are budget-conscious given the economy. According to the ASLA's survey, the most popular amenities for outdoor living space are, "seating/dining areas (95.6%), grills (94.4%), fire pits or fireplaces (94%), lighting (93.4%), and installed seating (90.6%) ." The items most installed and requested maximize usability by creating warmth, light, or seating designed to make the outdoor area more appealing for large groups, dark evenings, or colder weather. "Five Top Trends in Patio Designs" (April, 2010) also states that fireplaces are popular this year. Budget conscious home owners want to spend their money where they can get the most use out of it. In particular, built in deck or patio seating helps maximize seating and can coordinate perfectly with the deck and be customized to home owner preferences and intended use.
Similar to interior remodeling projects, according to "Five Top Trends in Pation Design", there is also a trend toward using sustainable environmentally friendly materials in outdoor living spaces. At the top of ASLA'S trends pertaining to sustainable design elements were dripless irrigation systems (85.2%) and plants that can withstand having minimal water (85.2%). Low-maintenance landscaping is also extremely popular (94%). Obviously, home owners are seeking improvements that can reduce their water bills, conserve resources, and give them more leisure time to enjoy their yards.
Comfort, relaxation, and usefulness are all serious considerations for home owners designing a new deck or patio. Homeowners spend time considering their space and how they plan to use it. Many decks and patios feature kitchen areas instead of just a small grill. Separate eating or sitting areas are not uncommon and fire places or pits (94% popular according to the survey), both gas and wood, are commonly requested to make decks more usable when weather gets cooler thus helping to justify the expense a new or remodeled deck or patio. Entertaining on a deck has never been easier with extensive cooking areas outside. Nevertheless, home owners are cutting back on refrigeration units (52.8%) in outdoor kitchens. Sinks, bathrooms, and fixtures requiring plumbing are also less popular in 2010, according to the ASLA's survey.
While functionality makes the deck convenient, relaxation is a priority for many customers. Soothing fountains or ponds surround decks and patios adding to the tranquility of the outdoor environment and bringing an added touch of nature to the surroundings. Installing fountains that recycle water is also popular.
Homeowners want decks and patios that comfortably flow with their surroundings. Deck and patio shapes and designs are considered to ensure that the mesh with the layout of the yard and achieve the aesthetic effect that the customer desires.
Popular Deck Materials
The 2010 customer considers price, durability, and maintenance when choosing materials. For many customers, environmentally friendly materials are also a plus. Concrete materials are often more cost efficient than brick or stone and do not require excessive maintenance. Today concrete patterns, colors, and textures can look similar to stone and brick as well, but do not come from a quarry. Composite deck materials made from plastic materials have a wood like appearance, but require less maintenance and do not splinter or fade. The initial purchase of composite materials may be more expensive, but over time it is less costly because there is no need to stain it. Stone is beautiful , durable, and requires no maintenance, but it is costly to install. Additionally, it can get slippery. Stone is mined from a quarry and efforts used to obtain it are not environmentally friendly.
Trends for 2010 in Deck and Patio Furniture
Whether you are building, remodeling, or just want to give your deck or patio an extra lift, outdoor furniture is expected to be popular this summer. According to an April 14, 2010 article in The Orlando Sentinal, "Summer Patio Trends Look Bright", the selection of furniture seems to be influenced by the economy and bright, uplifting colors to facilitate an upbeat mood ,as well as, soothing cool colors to encourage relaxation are popular. Furniture is comfortable, durable, and many pieces are reasonably priced. Designers are creating smaller pieces that look well-proportioned to smaller space since many people are down-sizing.
In short, now that spring is here and summer is close at its feet, home owners will be utilizing their decks and patios even more and improving or building them. Whether they are looking to enhance an existing deck, expand an existing one, or build new outdoor living space, the current economy has influenced personal preferences, outdoor deck designs, and the home owner's outlook on the frequency that they will use their outdoor space.
Sources: In Place Architecture, AZ Central
Related Posts