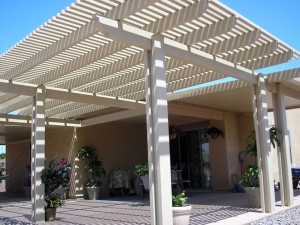 <>
Having a patio outdoors is a great feature and gives homeowners a place to really enjoy their outdoor space. The issue is, however, that many people are interested in installing some type of patio cover to offer protection from the sun and rain. By incorporating a covering over the outdoor space, you can get more use out of the space even during the heat of the day when the sun is beating down, or when it is raining but you still want to get outdoors and enjoy some fresh air while you watch the raindrops fall.
When it comes to what type of covering to choose, you have multiple options. For those that want the choice to cover their patio space when they want but to keep it uncovered when that is their preference, the best option is to choose from among the various roll up awnings available on the market. This provides you with the best of both worlds because you can unfurl the awning when you need overhead protection but when you don't want it, you can roll up the fabric covering so that there is no covering overhead.
There are many types of choices when it comes to these types of awnings. There are manual models that include a crank that you insert into a socket and turn when you need to open or close the awning. These are not that hard to use, but they do require some manual labor and even though they're not too hard to turn, you do have to reach overhead somewhat to get them moving.
Another option is to get an awning that operates automatically. In these models, you simply push a button and the mechanism will open or close the fabric covering of the awning automatically without you having to do any work. In fact, some of them are so easy to use that they even have a remote that you can click on to set the mechanism into motion. This really makes it easy to get shade when you need it or to open up the area to the sky above when that is what you'd rather see.
Another option for covering your patio is to build a more permanent structure that provides overhead coverage for the patio space. This can simply be a roof with support poles around four sides, or an overhead covering attached to the side of the house on one side with support poles on the far two sides, or it can even be a structure that includes one or more side walls. By adding side walls in addition to the overhead covering, you can also block out wind and add more privacy to your patio space. If you don't want the sides to be there permanently, you can build a structure that provides permanent overhead space, but the sides can be removable so they are only used at certain times of the year or in certain weather conditions.
Aside from awnings, the more permanent covers built over patios can take on many forms. They can be wood structures, metal structures, or aluminum structures. The covers can have flat roofs, A-frame roofs or can be built to have a roof line that corresponds and flows off of the existing roof of the house. In some cases, the roof can be covered with regular roofing shingles, or the roof can match the materials used to build the rest of the structure.
No matter what type of covering you choose for your patio, incorporating this option allows you to enjoy your outdoor space even when the weather doesn't cooperate and keeps you safer by shielding you from the harmful rays of the sun.
Related Posts