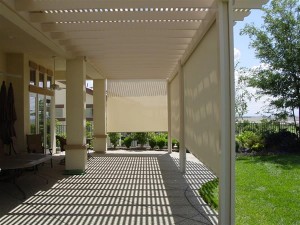 <>
There are many ways to shade a patio. In this article we will discuss the history of the patio, what patios tell us about our society over time, and then we will discuss why modern people want to shade a patio and of course the many ways to shade a patio.
What is a patio?
In modern usage a patio is a concrete slab connected to the home. Unlike a porch, the patio does not have a roof, and is on ground level, which usually means that there are steps leading down from the house onto the patio, unless the home is built on a slab.
How have people and patios changed over time?
Since their rise in popularity during the fifties and sixties patios have evolved considerably. During the 1950s there was no air conditioning and people actually went outdoors to cool off in the summer. While today we think it is hot outside, in the 1950s it was the coolest place in the home, as nearby shade trees were a welcomed canopy for the patio.
In the 1960s and 1970s people found un-shaded patios enjoyable because of the passion people had for the sun. People used to 'lay out' on their patio recliners and enjoy basking in the golden rays for hours on end, until they were golden brown. It was then believed that the benefits of fresh air and sunshine far outweighed the possible dangers of skin cancer. In those days people tended to spend a lot of time outdoors as well.
Sometime in the 1980's doctors and scientists convinced Americans that the sun was harmful. Although sun can contribute to skin cancer, the reaction was a bit extreme. People fled the outdoors and soon became addicted to the indoor life, of air conditioning, TV, video games, and computers. The result was a lack of exercise and outdoor activities which even indoor gyms could not fully compensate for.
It's time to take back the out of doors, with the only sensible solution: shaded outdoor areas. The patio, already paved is a great place to start. Modern technology has delivered on new ways to shade our patio, in addition to the old fashioned ways. Rediscover the patio with these wonderful shade ideas.
Additional Info:
MJJ Sales – Evolution of Patios
Sun Umbrellas
Sun umbrellas have long been used to shade patios and patio tables. They are attractive and practical for small areas. The patio sun umbrella varies in size, but in general they are not very large, they are not a good solution for large patios.
Gazebos are also great for small patios. There are many models of prefabricated metal and canvas gazebos, which can be put up and taken down very easily. Portable gazebos must be taken down before storms though, and sometimes wear out if taken up and down too many times. Stationary gazebos are permanent structures which may be perfect to cover part of your patio.
Additional Info:
Outdoor Gazebo Plans
Blue Grass Gardens: Garden Gazebo Plans
Pergolas
Building a pergola over your patio is an excellent solution which looks very attractive. It is a relatively simple wood project which two or more people should be able to complete over a weekend. It is very trendy to build pergolas over both patios and decks. Pergolas also make excellent frames to support other sun shades.
Assemble Alumawood Patio Covers – Do it Yourself
Canvas Sails
Canvas sails can cover your patio very attractively. They breath and have a very cooling effect. Sails are suspended with cords or wires between they house and either posts or nearby trees for a very modern and attractive effect. Canvas sails are inexpensive, easy to install and very practical.
Related Posts
<>