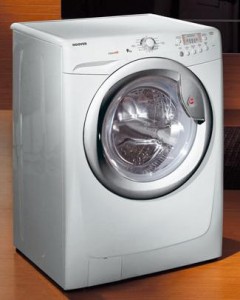 <>
If your 2006-2010 home remodeling or special occasion gift-giving included adding a new dishwasher or front-load washer, then you may have to make sure it hasn't been recalled recently. Although GE and Maytag appliances are usually very reliable products, they both have had voluntary recalls announced in June, 2010. On June 3rd, the U.S. Consumer Product Safety Commission (CPSC) and Maytag Corporation announced the recall of approximately 1.7 million dishwashers. CPSC and GE Appliances & Lighting, of Louisville, Kentucky announced the recall of approximately 181,000 GE Front-Load washing machines on June 10th.
According to CPSC, the Maytag Corporation in Newton, Iowa and Benton Harbor, Michigan manufactured the defected dishwashers. Although no injuries have been reported, Maytag has received at least 12 reports of heating element failures. The defective heating elements caused fires and dishwasher damage, with one causing extensive kitchen damages due to the fire.
Maytag Corporation sold the dishwasher through department and appliance stores, as well as by homebuilders nationwide. The dishwashers were sold February 2006 through April 2010. They were priced from $250 to $900, and were made with black, bisque, white, silver, and stainless steel front panels, and have plastic tubs. The brand names, which are printed on the front of the dishwasher, include:
Maytag®
Amana ®
Jenn-Air®
Admiral®
Magic Chef®
Performa by Maytag® and Crosley®
Only certain models and serial numbers are affected. You can find the model and serial number printed on a label that's located on a tag near the left side of the door opening, inside the plastic tub. Maytag and CPSC advise consumers to immediately stop using the dishwashers. Additionally, disconnect the electrical power supply to the unit, by shutting off the circuit breaker or fuse. Moreover, you should inform everyone that uses the machine of the possible risk, and contact Maytag if you think you might have a defective dishwasher.
These are the serial numbers involved:
Starting with: NW39 through NW52; NY01 through NY19
Or ending with: JC, JE, JG, JJ, JL, JN, JP, JR, JT, JV, JX, LA, LC, LE, LG, LJ, LL, LN, LP, LR, LT, LV, LX, NA, NC, NE, NG, NJ, NL, NN, NP, NR
Maytag Corporation is offering consumers with defective machines the choice of scheduling a free in-home repair or receiving a rebate on the purchase of certain new stainless-steel tub models. Maytag asks consumers not to return the recalled dishwashers to the retailer where they were purchased. For more information about the recall and your options, contact Maytag at (800) 544-5513, or visit their website at www.repair.maytag.com.
GE Appliances & Lighting reported to CPSC that they have received reports of seven incidents which involved flames escaping from the recalled front-load washing machines. Apparently, there's a wire that can make contact with a metal part on the washtub when it breaks in the machine, if the machine is operating. This poses fire and shock hazards. So far, the only harm caused by the defect has been minor smoke damage. There haven't been any injuries reported to GE or CPSC.
GE and CPSC reported that the defective washing machines were manufactured in China between December 2006 and February 2010. The description of the recalled units given in the reports is simply GE front-load washing machines without auxiliary water heating. These units were sold in various department and retail stores nationwide, from December 2006 through May 2010. The washers were priced around $700.
To check the model and serial number, look on the bottom right side and on the bottom door frame of the washers. The model number begins with WBVH5. The serial number begins with:
AM, AR, AS, AT
DM, DR, DS
FM, FR
GM, GS
HM, HR, HS
LM, LR, LS
MM, MR, MS
RM, RR, RS
SM, SR, SS
TM, TR, TS
VM, VR, VS
ZL, ZM, ZR, ZS
GE and CPSC are telling consumers to immediately cease using the recalled washers. The defective washer should be unplugged from its electrical outlet, and shouldn't be operated until it's been repaired. If you have a defective model, you can contact GE for more information regarding the recall. You can visit GE's website at www.geappliances.com, or call toll-free at (888) 345-4124 between 8 a.m. and 5 p.m. ET, Monday through Friday. GE is offering to remedy the situation by providing free repairs.
CPSC is continuing to collect any reports of incidents or injuries that are related to either of these products. If you have had any problems with the defective models for these or for any other reasons, then contact CPSC. You can visit Consumer Product Safety Commission to report your experiences. CPSC also reminded consumers that it is illegal to resell or attempt to resell any recalled product.
References:
CNN, CPSC, GE Appliances, Maytag Corp, WSLS 10 (Roanoke, VA)
Related Posts