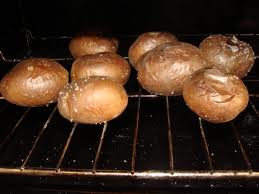 Baked Potatoes in the Oven
Baked potatoes are a great addition to any meal at home. You can even make them a meal of their own by adding the right toppings. They are very simple to make in the oven. If you can turn on the oven, you can handle baking a potato in the oven. Big potatoes make a better baked potato than the small ones. You can buy them individually or just buy a large bag of potatoes at the store. This also makes a very cheap meal or side dish. Potatoes are very affordable.
The first thing that you need to do is preheat your oven to 375 degrees F. Pick your potatoes out and wash them off before you start. Take out a fork and poke several holes throughout your potatoes. This is for the steam to be released from the potatoes while they are cooking. I usually poke each potato about five or six times.
Next you are going to wrap your potatoes up in aluminum foil. Spray the foil with cooking spray before wrapping the potatoes in it. Make sure that all of the potato is covered by foil.
Place your potatoes in the oven directly on the rack once your oven is preheated. Let them cook for approximately one hour before checking to see if they are done. The best way to tell if they are done is to squeeze the potatoes. If they feel soft, then your potatoes are done. Use an oven mitt to check them so you don't burn yourself.
Remove the potatoes from the oven using an oven mitt again. Let them sit for about five minutes before you unwrap them to keep from burning yourself. Remove the foil from your potatoes and they are now ready to serve.
If you are serving your baked potatoes with a meal, there are a lot of toppings options you might want to use for them. Get out sour cream, butter, salt, pepper, cheese, and bacon bits. These are all great for a baked potato. Let everyone in your family choose which items they want on their potato.
You can also choose baked potatoes as a meal of their own. You can top them with strips of grilled chicken or chili. If you have leftover fajita chicken or beef, this makes a perfect topping. These all taste great and add some meat to your meal. This makes for a nutritious meal that your entire family can enjoy. Don't be afraid to try new things. You can use your imagination to come up with new topping ideas. You might end up with your family's new favorite meal.