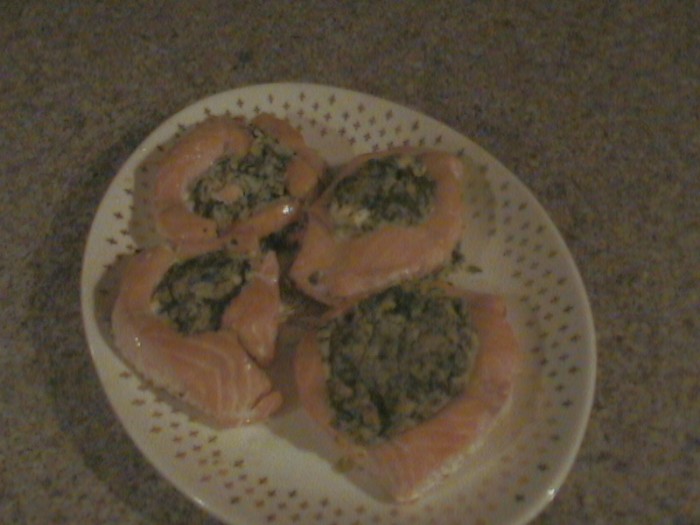 This is a great salmon recipe to have. You will really love the spinach filling. These can be served hot or cold, or even made into a great sandwich. I like to use salmon steaks, and that is what I'm doing today, but you can use fillet pieces, it is just tricky to get the filling to stay in place.
Another note; you can use fresh spinach, but I find the frozen works best here.
Ingredients
4 salmon steaks cut to 1" –1 ½" thick
10 oz. frozen spinach (drained well and chopped)
4 oz. sour cream
4 oz. ricotta cheese (or cream cheese)
½ cup mayonnaise
½ finely chopped celery
4 finely chopped green onions
1 package onion soup mix
Salt and pepper to taste
Combine all ingredients except salmon, and mix until all are incorporated, set aside.
Preparation
Preheat oven to 375. Lay your salmon flat on an oiled baking sheet. Pull the belly pieces of each steak towards each other and secure with a toothpick. Carefully fill each steak with ¼ of the filling. Drizzle top of filled salmon with olive oil and bake at 375 for 30-35 minutes or until salmon is done.
Serving
I like to serve this salmon with toasted pita chips and a steamed asparagus.
<>