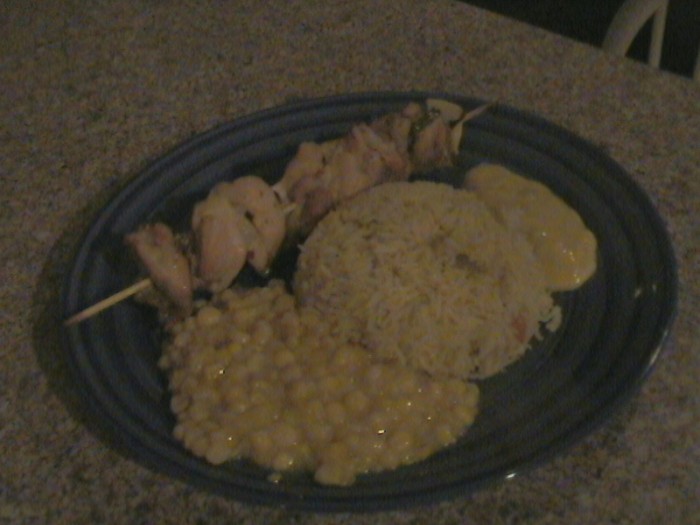 This is a delicious Mediterranean inspired recipe that is simple and gives you a way to transform that boring chicken into something unique. I like to use boneless thigh pieces for this. Today I am leaving the skins on, but you can remove to lower the fat. You could choose to use breast if you prefer as well.
Curry Yogurt Sauce
1 ½ cups plain Greek yogurt
1 tablespoon curry powder
¼ cup finely minced scallions
1 tsp grated garlic
1 tsp grated ginger
Combine all ingredients and whisk together until smooth. Let stand, covered in the refrigerator for about 3 hours, up to overnight.
Chicken
½ cup dry white wine
1-½ lbs. chicken thigh, boneless
1 tablespoon curry powder
3 galric cloves smashed
6 thin slices of fresh ginger
1 teaspoon crushed red pepper
½ cup olive oil
6 bamboo skewers 12" long (soaked in water)
Preparation
Cut chicken into 1" chunks. In a large zipper bag, sitting in bowl, combine wine, curry powder, garlic, ginger, crushed red pepper, olive oil and mix it around. Add chicken pieces, close bag, and place in refrigerator to marinate for at least 3 hours, up to overnight. Move chicken around in bag every couple of hours.
When the chicken has marinated, preheat the oven to 375 degrees. Place the chicken pieces on skewers, leaving a little space between each piece. Bake chicken at 375 degrees for about 30 minutes or until done.
Serving
I like to serve these with basmati rice. Just place the skewer on the serving plate and a little bit of the curry yogurt sauce for dipping.
<>