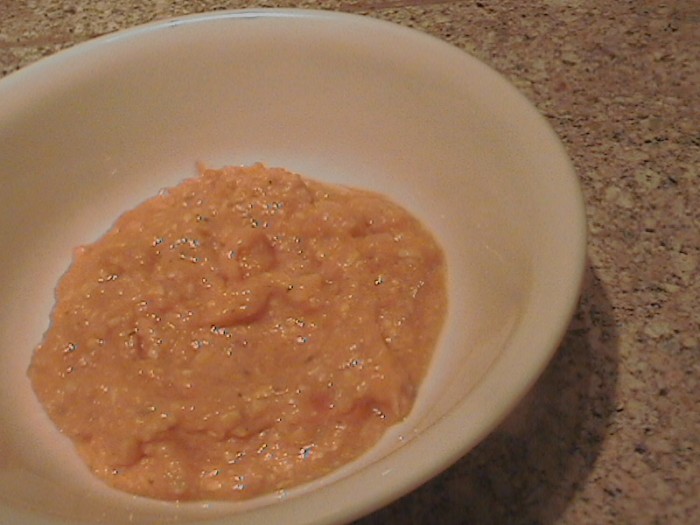 Pesto sauce is commonly made with basil, however pesto refers to the preparation style of this sauce. The name comes from the mortar and pestle that were traditionally used to make it.
I created this roasted tomato version of pesto sauce for those that may not be big fans of basil. I really prefer the cherry tomatoes for this sauce. I have used Roma tomatoes as a substitute, but it wasn't quite as good. Another note, use a good shredded Parmesan cheese, not the kind that you sprinkle out of the can. The texture and taste of the cheese is key to this recipe.
Ingredients
3 cups cherry tomatoes
4 cloves garlic whole
¾ cup Parmesan cheese shredded
½ cup olive oil
¼ cup pine nuts
Preparation
In a large bowl, combine cherry tomatoes, garlic, and black pepper to taste. Drizzle with olive oil and toss to coat. Spread tomatoes and garlic on a baking sheet and roast under broiler until just starting to get dark edges. Remove from broiler and cool.
Add tomatoes, garlic, Parmesan cheese and pine nuts into a food processor. With processor running drizzle ½ cup of olive oil slowly until emulsified. Refrigerate to cool.
Serving
I love to serve this pesto sauce on toasted crusty bread as an appetizer. It is also great on chicken and shrimp. It makes great pasta as well, just cook your spaghetti and drain, toss with the pesto for a quick and delicious meal. I also use it for sandwiches in place of mayonnaise.
<>