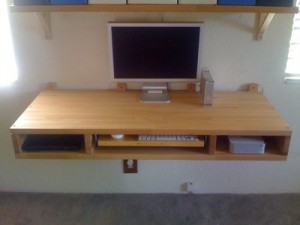 A wall mounted desk can be an invaluable asset to an office, work shop, or home where space is very limited. Prices for a wall mount desk start at less than $200 and continue upward. The style of desk you choose largely depends on how you plan to use the desk.
If you are a mechanic looking for a durable, easy to maintain work space, a wall mounted steel desk might be a solution to your space dilemma. This type of wall desk has support brackets to secure its drop down work space. It can be attached at a height that is convenient for you. The desk opens to reveal a flat work surface, pigeon hole storage and a drawer that can be locked. This type of wall desk also works well in a warehouse setting. It is a good choice for a desk arrangement in a home work shop. As a bonus to its durability and function, it also comes in a variety of colors.
In an office area or in a home office setting, a wall mounted computer desk made of wood is both attractive and functional. This style of desk can be locked for security purposes. This is a beneficial feature if the office space is shared with others. This desk mounts on the wall and has a pull down work surface that is large enough for a laptop. If you are still in the planning stages of designing a home office or an office space at work, you might want to consider installing a recessed flush mount wall desk. These offer approximately the same amount of space a the drop down desk that attach to the wall.
There are many situations in a home setting where a wall mount desk can be an excellent addition. If you have a small house or apartment where space is limited, a fold away wall desk can be a great addition to your home or apartment. This type of desk is made of wood and looks attractive hanging on the wall. When opened, you have space for a chair underneath the desk top. You could use a dining room chair as your temporary desk chair. The fold up desk is approximately 6″ deep when hanging on the wall. It opens to provide 30″ of work space. It has a cork board area, storage compartments, and a good size work area. This type of desk would also be a very useful in a teenager's room. It would be a helpful addition to a kitchen area or family room.
One area of your home where you might not think of adding a wall desk is the bathroom. However, there are situations when that might be a beneficial idea. If you have small children or are perhaps caring for elderly parents who require numerous medications, a wall mount medication cabinet and desk combination could be helpful to you. This would provide a secure storage space for the medications and a place for documenting its administration.
A folding wall mounted desk made of melamine shelving is a possible option that could be used in numerous situations. The desk attaches to steel tracks that are mounted on the wall. You can choose the height of the desk, the length of the desk, and add as many additional shelves as your space allows.
There are numerous DIY plans available online if you have the time, the tools, and the desire to create your own wall mounted office desk. But, if making a desk yourself is not an idea that appeals to you, it is easy to locate the various types of wall mounted desk both online, in department stores, and in home improvement stores.
Related Posts