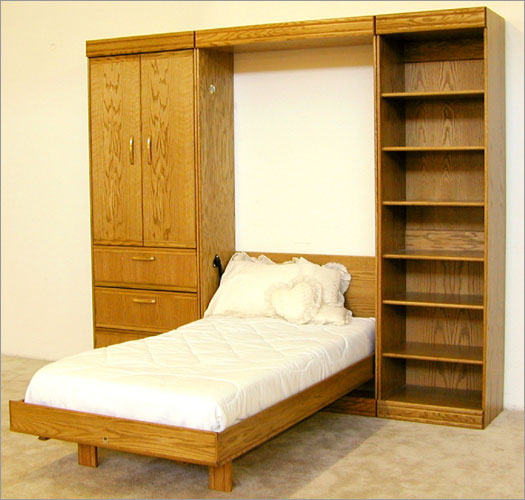 If you're looking for a cost effective way to gain some space in your apartment or guest bedroom, a hideaway bed is great way to do it. With space being a huge motivator for any home, you can use a hideaway guest bed to maximize your space and add some taste to the decor of the room. A hideaway bed can be a beneficial alternative to a pullout coach or a rolling cot as neither of these will save you any space. The best thing about these kinds of bed, is that you will never know it is there. Most of these units fold right up into the wall and look much like a cabinet or an exterior closet.
Did you always want to turn your guest bedroom into a home office, a sewing room or a workout area, but wanted the option of having a bed for unexpected guests? If you had a hideaway bed, you could maximize the space that you already have and get rid of the guest bed or pullout couch that is limiting the space in your room. Hideaway beds are becoming more and more popular in cities where renters are leasing studio apartments and small one-bedrooms.
There are several versions of the hideaway bed that can be tailored for each and every need you have. The first version is the standard wall bed. This unit will give you shelving, drawers and a mantel for your books or movies. When the bed is up, the exterior looks much like a cabinet or a wall storage unit. You bring the bed down and it turns into a place for you or your guests to sleep.
Another version of the hideaway bed is the convertible desk bed. With this unit, the bed is hidden behind your computer desk. When you're ready for bed, you simply pull the desk portion out from in front of the bed and unfold the hidden mattress behind it. Many of these beds come with a variety of options such as the materials they are made out of, the designs and the colors. During the day, you can fold the bed back up and move the desk unit back to conceal your mattress. This option is perfect for converting a home office into a guest bedroom in minutes.
The space saving bed is an interesting alternative to the wall bed and the convertible desk bed. With this version of the hideaway wall bed, not only will you get a stylish unit, you can save a lot of money as it's extremely cost effective for the consumer. At almost half the cost of the other units, the space saving bed disguises itself as a chest-of-drawers or another cabinet and folds out to make a bed. This is a much smaller unit that is more compact and portable. If finances are a concern, this bed is definitely the way to go.
With any option that you pick, you are going to yield different results. If you're trying to convert a guest bedroom into the home office of your dreams, then the convertible desk bed would a great candidate. If you're looking for a cost effective way to save space, you might want to go with the space saving bed. When trying out a hideaway bed, be sure that you are going with a great name brand. Companies like Murphy have been in the hideaway bed business for a very long time and have a great reputation for quality products. Examine all of your options and try to imagine your life with more space and more freedom to do what you want with the space you already have and what you could gain when investing in a hideaway bed.
Related Posts