Those in the market for log home kits are fortunate because right now there is a great deal of variety and choice. There are many aspects to the proposition of building a home from a log home kit, and buyers need to aware and well informed of these components before making such an important purchase.
A log home kit is just that: some of the materials necessary to assemble a log home. Typical log cabin home kits include blueprints, and some of the materials necessary to assemble the building. These construction materials typically include the log walls, which consist of post and beam log wall systems generally 8 feet high—but can be customized to fit specific plans—which are cut to fit the building's specific foundation. Included also are tongue and groove logs, up-rights, corner posts, spiral spikes for wall assembly, sealant foam, caulking, log fasteners, trim caps, and window and door caps for both interior and exterior.
The kit also normally includes the exposed first floor ceiling joists and joist blocking, exposed roof rafters, ridge beams, tie pole assemblies, shiplap siding for exterior gables, porch rafters, plates, and posts. It is important to note that each kit will have different supplies; for instance, some models include the materials for a log home that has exposed rafters and ceiling joists, while another may substitute those features for sheetrock and paneling for a more finished look. It is also important to note that a number of supplies will not be included in a log home kit, including windows and doors, plumbing and electrical components, HVAC materials, plywood, and shingles. The "common knowledge" rule concerning this is that if the items are readily available at a local home improvement store, they will not be in the kit materials.
There are numerous reasons many log home kit providers do not include such items in their packages. One such reason is that their moving adds on considerable transportation costs to the kit price; another is that the installation of these components is not immediate, and as such, the materials need safeguarding at the construction site until their installation time arrives, often months after their initial arrival. This additional security requires extra insurance and other costs, which the buyer ends up with in the form of higher prices. Additionally, the buyer can usually purchase such items locally at a better price than what the kit producer can provide.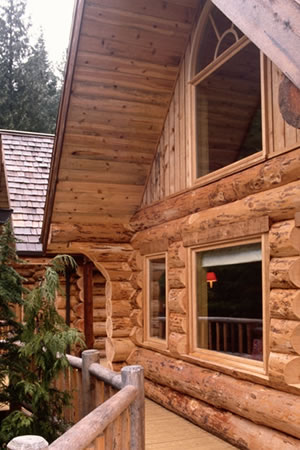 Log cabin kit producers usually calculate the overall price of a kit by multiplying the price per square foot times the square footage of the kit and then adding on taxes as well as freight costs. Kit producers generally figure the calculation of the price per square foot by adding up the cost of the materials necessary for a home of the specified size, then adding the costs of labor and overhead figures, and dividing it by the square footage of the home in question. For example, if a buyer is interested in a home that is 2,000 square feet it will require $30,000 of materials, $10,000 worth of labor, and $5,000 worth of overhead costs. This totals $45,000; taking $45,000 and dividing it by 2,000 square feet, a kit producer might price this particular home at $22.50 per square foot, plus taxes and freight costs. Keep in mind that this is just the cost for the included materials, not all of the materials necessary to construct a complete house, and it does not include the labor required to assemble the house. Actually constructing the home can oftentimes be a different matter all together.
Some companies can provide customers with the kit and provide services to construct it on the buyer's land. Typically, general contractors—occasionally employed directly by the kit producer but more than likely independent contractors that the kit producer recommends to buyers or works in exclusive partnership with—carry out the actual assembly of the kit. Then, there are those kit buyers that intend to do the assembly and related construction work on their own; this is also possible.
Such individuals must check with their local governments before beginning construction tasks to make sure they have the appropriate permits, and after construction to have their work inspected and make sure that the different parts, plumbing and electric, for example, are up to state code requirements. The costs related to assembly and other construction aspects are independent from the kit price, and generally base their quotes from an hourly rate basis. If we continue with the above example, if the buyer hires an independent contractor to construct the kit that independent contractor may quote the buyer a fee of $32,000 for his crew of 10 to finish the house in fifteen days at $20 per hour. Now the total cost of the log home kit and the labor to assemble it is $77,000.
The buyer must still figure into the total cost the price of the omitted materials—doors, windows, plumbing, electrical, etc.—before having an estimate as to what the total cost for this home will be. One more factor that is unique to each buyer's situation is that of land. Some buyers will have a mortgage on the land they intend to build their log cabin on; others will own the land outright. If there is a mortgage, buyers must add this figure on top of the construction and kit costs to reach an estimate as to total price.
A buyer's budget and imagination are really the only limitations when it comes to creating a cabin from a log home kit. Buyers should be aware of the materials that will come in the kit and plan for the materials that are not part of it.
They should also have assembly and construction plans, whether they intend to do the work themselves or hire someone else to do it, and make sure that is part of their budget. In addition, including any necessary payments on the land as well will help homeowners arrive at an accurate estimated price for the total cost of their new log cabin home. Homeowners who purchase cheap log home kits have a lot of work ahead of them, but when their home is finished, all of the work will be well worth the effort.
Related Posts