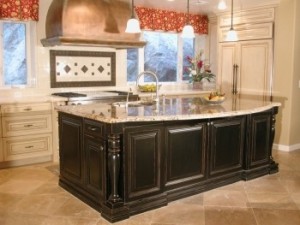 <>
Whether you are remodeling your current kitchen or purchasing a new home, kitchen islands seems to be the new standard these days. And why wouldn't it? It's a great place to store extra pots and pans, it can be made into an eating area, and it can also hold dishes you wish to serve to guests away from the general eating area. When someone walks into the kitchen and sees granite countertops and a beautiful kitchen island in the middle of it all, it adds a certain wow factor to the kitchen. Now you just need to figure out what type of kitchen island you would like to have.
If you are having a home built, the kitchen island comes as a certain standard. Homebuilders like Tollbrothers will have all countertops granite as a standard. One of their most popular features is the gourmet kitchen, which adds about 3′ to the kitchen and elongates the kitchen island. Selecting this option can also result in being able to choose whether you want a stovetop installed with the kitchen island, which can open up your wall space for a double wall oven. Other builders, however, might just put corian countertops in, which can change the look of the kitchen drastically.
When you are remodeling, the most popular remodel is to replace outdated countertops with marble or granite. This is a perfect time to have a kitchen island constructed. The size of the island is up to you, but ensure there is plenty of room around the kitchen before going with a bigger kitchen island. Make sure you have a professional come in to ensure the projected addition is up to code so this doesn't hurt resale for your home down the road. If you are looking to have a professional do the install, ask friends and family members for recommendations. While keeping the cost down is great, you want to make sure you are getting somebody who has an expertise in kitchen renovations.
For those who aren't remodeling the whole kitchen and merely want a kitchen island, look to see if you can get a match to your current countertops with the island. It would look a little odd to have a kitchen island made of a different color maple or oak than your current kitchen cabinets. If you have a single color for your countertops, try to match the kitchen island countertop to what you already have in place. A black granite kitchen island would definitely look out of place if the rest of your countertops are white corian. If you insist on having granite or marble, however, you could find a white granite or marble that will flow with your current color nicely.
For many people, however, having a kitchen island in their current kitchen isn't a reality. Whether it's too expensive or the kitchen isn't big enough to accommodate an island, they're not completely out of luck. A kitchen island on wheels can be purchased fairly easily. It's just a matter of figuring out how elegant you want the island to be. The majority will be a chrome or aluminum frame with wheels, but you can find some with a faux wood or real wood. It's all a matter of how much you want to spend and what purpose you want the kitchen island to serve.
Having a kitchen island that can transport easily is really wonderful because you can move it to the area that you need it in. Move it to the basement or garage if you are entertaining in that area. For homes on one floor, you can just push the island from one room to the next. It's a great way to carry around drinks as well as snacks. The most popular place for a transportable kitchen island, however, is out on the porch or patio area. Many will go with this route so they have a nice serving area without having to worry about building something permanent onto their home or having too much weight for their current patio to support. This is particularly handy by a hot tub or swimming pool area. Wherever your kitchen island is, it is sure to be utilized fully.
Related Posts