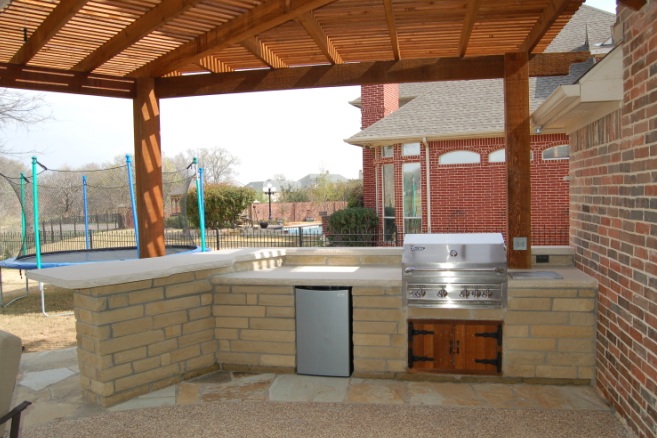 Having an outdoor kitchen is considered a luxury for many homeowners. Since the type of kitchen that you design can range from something very basic to an elaborate and elegant space, incorporating this amenity into your backyard does not only have to be for the rich and famous. How you design the space and the items you incorporate into that space will depend in part on how much cooking you plan to do outdoors, what your tastes and preferences are, and what your total budget for the project is.
The main focus of any kitchen used outdoors is a grill. This can be anything from a basic charcoal model to an elaborate built-in gas model that has multiple burners and accessories. When cooking outdoors, a grill is your main mode of cooking and so it is usually front and center in any type of kitchen designed outside. Aside from a grill, the other amenities you include in the design can vary dramatically from kitchen to kitchen and that's where the scope of your design – as well as your budget – can really begin to differ from that of others who have also designed a kitchen in their backyards.
After deciding what type and size of grill you are going to include, the next big decision to make is whether you want an outdoor sink. A sink is a great feature to have if you do a lot of cooking outdoors because it makes prep work and cleanup much easier. You can choose a stainless steel model, a cast iron model, a porcelain model or even a copper model. The material you choose will depend in part on your style and design tastes and whether you are putting any type of covering overhead. For example, if you choose a porcelain model, you want to make sure the sink is somewhat protected from any stray branches or other large objects that can fall on it and cause the porcelain to chip or crack.
Sinks can be very similar to indoor models and your choices just as varied. In addition to choosing the type of material to use, you need to decide if you want a single sink, a double sink or just a bar size sink. You can get a standard depth model or a deep model, or can even choose a farmhouse or basin type sink. You also need to choose what type of faucet you want to include and the one consideration to keep in mind is to choose a material that will hold up well to the outdoor elements.
After you have decided about the two main features of your kitchen, the sink and the cooking apparatus, you can then decide also if there are other appliances and features you want to include in your kitchen design. Some kitchens situated in a backyard are a focal point of entertaining and so they include things like refrigerators, ice makers, freezers, and wine fridges. What you choose to include in your kitchen will depend on what you plan on doing outdoors and how high your budget can go.
Storage and counter space is another design element to consider in your kitchen. If you plan on keeping dishes, cooking utensils or small appliances, such as blenders and food processors, outdoors to have easily available, then you will need to factor in ample storage space for these items. You will also want to consider seating space outdoors in relation to your kitchen. This can run the gamut to a full island with stools, to a bar area or an outdoor table placed in close proximity to the kitchen space.
No matter what design elements you choose to include in your kitchen, having this extra "room" outdoors can really add to the enjoyment of your outdoor living space.