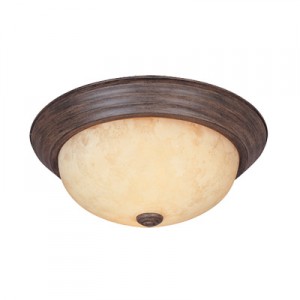 <>
Knowing what type of lighting to choose for your home can be a difficult process, especially when space is limited. Although many homeowners are quick to grab a floor lamp or table lamp for their lighting needs, these types of fixtures take up space and don't provide an even amount of lighting across a large room. That is why ceiling fixtures are a great alternative, as these lights are out of the way and provide an even range of lighting. More specifically, flush mounted ceiling lights are the perfect way to add illumination, along with a decorative appeal.
Flush mount ceiling lights are lights that are flush with the ceiling. They are most commonly used in entryways and hallways, and chances are, you already have several throughout your home. There are many advantages to choosing flush ceiling mount lights, as these fixture are quite versatile. However, the key to these ceiling fixtures is that they are better suited in some rooms than others, so it's important to use them where fit. For example, rooms that have low ceilings or require plenty of light are great places to start. Bathrooms and bedrooms are also well-suited for this type of lighting.
Flush mounted fixtures are easy to care for and low maintenance since they are fixated on the ceiling. They shield out dust and bugs better than their semi-flush lighting alternatives. As these lights get dusty however, you can give them a quick clean with a lint-free cloth. A flush mount ceiling light is great for homes that have limited space, especially if you have children or pets that are prone to pulling on electrical cords.
With these ceiling fixtures, the electrical work is pre-done in the walls, so these lights do away with cords, floor lamps and table lamps. They can be turned on and off with the flip of a switch, and you have the option to hook them up to a dimmer so you can control the intensity of the lighting. When it comes to changing out the bulbs, prepare to do so with ease. The cover simply unscrews, and you can replace the bulb. You can also opt for Eco-friendly light bulbs that last longer and use less energy than incandescent bulbs. On the flip side however, incandescent bulbs are inexpensive and will provide you with plenty of hours of lighting.
As with other types of lighting, there are plenty of styles to choose from when it comes to flush mount ceiling lights. The most popular design is the simple globe, which features a rounded lamp shade. Since these ceiling fixtures are ideal for providing ample lighting, the globes are usually clear or white in color, letting through the most illumination. However, you can choose from frosted or shaded globes that add dimmer lighting and a more modern appeal.
To go along with the design of the fixtures, you will also need to select which color or finish is right for your home. If you're looking for a contemporary appeal, look for flush mounted light fixtures that are made from a brushed nickel, chrome or pewter material. If traditional is more your style, then look for a fixtures in gold or brass colors. You can also choose from the popular Tiffany style ceiling mounts that feature stained glass pieces and intricate details. These pieces of glass are also reflected in the lighting and serves as a piece of art in any ordinary room.
What people love about flush mounted lights is that they are sleek and non-obstructive, so they won't ever be distracting from the room's décor. Although these ceiling fixtures won't draw people in as a chandelier would, they are a subtle way to enhance your existing décor, while providing ample lighting. Even more exciting, these lights are affordable, even for those on a tight budget. For under $100, one can find a large selection of flush mount ceiling lights that sport a contemporary design. It's always best to shop online, as you can find the most competitive prices, discounts and free shipping. Not to mention, there are more unusual styles of ceiling lights than the traditional globe, such as square shaped fixtures or those that have intricate details on the base of the light, including pieces of mosaic tile or flower prints.
Related Posts