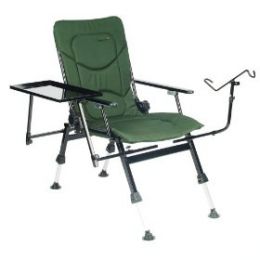 Just like people, not all fishing chairs are alike. Fishing chairs vary in size, style, shape, color, price, and quality. However, knowing how to choose the right one is simply a matter of narrowing down your choices.
Determining shape and style
First of all, you need to decide what purposes you want the chair to serve. To help make these decisions, you need to ask yourself several questions. You should ask yourself:
Do you want it to provide sun protection, storage, both shade and storage, or neither of these?
Do you want it to hold your pole while you're busy doing something else?
Do you want it to hold a drink a book, sunglasses, or a tackle box? Does it need a table to make cutting bait easier?
Will you be the only user or will someone else use the chair too? Do you need a chair with adjustable heights?
Does the seat need to be extra-wide?
Knowing the answers to these questions will help you to narrow your choices of styles and shapes. For instances, you'll narrow the choices down according to what features they have, i.e. a chair with or without a drink holder or a table added on. You'll know whether it has to have an umbrella or pockets attached. You'll also know whether you want to add on the expense of a rod holder.
Determining portability and size
Secondly, you have to decide where you want to use the chair. To determine this, you should ask yourself:
Are you going to be fishing from a boat, a fishing pier, a steep river bank, or a sandy shoreline?
Will you have to carry it a long ways or carry it through rough terrain?
Will you be ice fishing?
Where you do your fishing determines how steady and portable the chair needs to be. It also determines how heavy or light weight it can be. Moreover, it determines how waterproof the chair's material needs to be. Additionally, where you fish helps to determine whether the chair needs a back or not, or needs to be made of solid instead of mesh materials.
Knowing the answers to these questions will also help you to narrow the choices down to a legless, tri-pod, or quad chair. The answers will also help to determine whether you want a stationary chair, a folding chair, or a highly portable chair with carrying case and shoulder strap.
Refining choice of styles, shapes, sizes, and comfort levels
Thirdly, you have to decide what type of fishing you'll probably be doing while sitting in the chair. The type of fishing you do will determine what level of quality and the style of chair that is best suited to your comfort. To help with this decision, you should ask yourself:
Will you mostly be casting sideways or overhead? If casting sideways, arm rests may interfere with your throw. If casting overhead, too high of a chair back could interfere with the throw.
Will you be reeling in big, heavy, or hard fighting fish? If so, you may require a chair that can hold up to all the extra body movement.
Will you be sitting for short periods or for long periods? If you are sitting for long periods, the seat and back may need extra cushioning. The chair may need to be high enough to allow for easy leg movements so you don't block the blood circulation. You may need a footrest to accompany the chair.
Determining quality and price
Finally, you have to decide what quality you need the chair to be. To determine the minimum quality suited to your purpose, you should ask yourself:
How often will you be using the chair, and will it be transported frequently?
Will it be stowed away when not in use, and if so, how will it be stowed?
What kind of weather and temperatures will the chair be exposed to?
Are you allergic to any specific types of material?
What price are you willing to pay for comfort and special features?
Now that you have made all the basic decisions, it's time to narrow the choices even more. It's time to decide what color of chair you want. It's also time to decide if you want to buy it online or at your local sports store. Perhaps you would rather purchase your perfect fishing chair at some other local store. No matter where you purchase your chair, knowing the answers to the aforementioned questions will help you choose a fishing chair wisely. Having the right fishing chair can make all the difference between having a wonderful time or a miserable experience.