Home and business improvement is seldom inexpensive. Flooring is no different from any other part of that equation. There are many cheap flooring options available that can help lighten this load and lower the costs of replacing old floors. The buyer is always cautioned about extremely low prices. Rock bottom prices can often mean rock bottom quality. With careful consideration, however, one can really find great deals that will go a long way towards making sure that improvement projects are well within one's budget.
A do it yourself approach may be acceptable to some consumers. This sort of an operation may very well drop the cost of a flooring project. This sort of a solution is most viable as an option for those who have a background in some sort of construction work. Linoleum tiles are often the choice of such projects, and they can run under $3-$4 per square foot.
This is not to say that there is anything wrong with giving installation a try. A little hard work is all it takes to set up one's own home flooring. However, this is not to say that this sort of an option is for everyone to take. While it may be a maneuver that totally eliminates any need for hiring an installer, it does include the risk that the work done by one's self is sub-par. There are also safety concerns to consider. Therefore, any mulling over the thought of performing the work themselves should be cautioned before attempting it.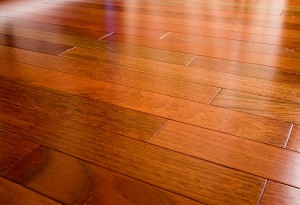 If do it yourself installation is not the best option for cheap flooring available, than using alternative materials may be. Laminate flooring is an avenue that is worth exploring for anyone concerned with saving money. The most expensive of laminate flooring types is actually inappropriate for home use. Even most regular businesses will not usually opt for it.
The highest-grade laminate tends to be most at home in automotive showrooms and department stores. This is known as AC 5 rated laminate flooring, and is generally too rough to walk on without shoes. The next down is AC 4 rated laminate. This is best used for general stores and offices. AC 3 type laminate is useful for all traffic areas of a residential home. AC 2 rated laminate fits well into formal rooms of one's home. The lowest rating is AC 1 laminate and works best in low traffic areas of one's home.
The price and rating number are directly proportionate. AC 1 rated laminate flooring will be far less expensive than the highest-rated types. Prices usually range between $1.50 per square foot and $5 per square foot.
Limestone tile flooring is usually associated with a higher cost, but smart shoppers can locate great deals on this type of tile flooring. In some instances, limestone flooring is much better than laminate, linoleum or wood. Therefore, shopping around can real pay off in the long run.
The most important thing to consider when finding cheap limestone flooring is the type of finish one really needs. The cost rises significantly in proportion to the complexity of the finish of the tiles. Polished flooring is only available with harder limestone. Brushed finishes are usually textured. Water worn finishes use water to superficially age the stone and give it a different cosmetic appearance.
All of these solutions may be very expensive. Therefore, it is often best to opt for a honed finish. Honed finishes are the most common and simple. They usually possess either a slight glossy appearance, or a flat matt coat.
One will usually have to speak to a sales representative to get estimates in relation to the cost of limestone flooring options. If one has a shrewd conversation with their representative, one will usually be able to locate a honed finish flagstone that gives the appearances of a finer tile at a greatly reduced price.
Hardwood flooring is among the most coveted of all types of residential flooring options. This also places it among the most expensive of all types. While that doesn't mean that it is impossible to find cheap hardwood flooring, it may be far more difficult to do so than some of the other options. Nevertheless, careful shopping will be rewarded.
By using solid red oak flooring instead of any of the exotic hardwoods, once can find flooring around $6 per square foot. If one is only concerned with having the appearance of cheap hardwood floors, then there is an even less expensive option available than this. Instead of red oak, one might wish to opt for engineered flooring.
Engineered flooring is one of the many trade names for composite or imitation wood floors. While it may be inferior to true hardwoods, some people have reported it being easier to clean and more resistant to some types of wear. The price varies greatly, and can often run up to $7 per each strip of the material. Unlike regular wood flooring, engineered wood comes with pre-developed tongue and groove construction. This is why it is more cost effective; the installation costs associated with such construction will be far less than with straight wooden boards.
If one wishes to save money on floors, then they will need to be smart. Shopping around for cheap flooring discounts will pay off just as much as considering the various types of materials there are available on the market. One should also make sure the product is going to last in the long run. Associated maintenance costs can often be as high as installing expensive products in the first place. Therefore, one should never rush in into any flooring project without first considering all of the consequences.
Finally, one should remember to take care of their flooring. Regardless of the associated price, one may end up paying more in repairs if they don't properly clean and care for their flooring. This is especially a problem with cheap wood flooring, which need special treatment depending on the type of flooring installed. Nevertheless, careful care and cleaning should prevent any such mishaps from occurring.
Related Posts