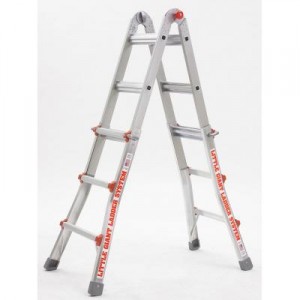 <>
In the 1930's a simple request from a Norwegian fire department to ALCOA (Aluminum Company of America), forever changed the face of commercial, residential, and do-it-yourself projects all over the world. At that time, the only option available to the consumer was a wooden ladder. While most DIY consumers had little need for a ladder over eight to ten feet tall, fire departments were wrestling with fifty foot extension ladders. They needed an alternative that could be reliable and easier to maneuver.
Aluminum ladders are lighter than timber ladders and perfect for fire departments as well as the DIY homeowner. Wooden ladders are susceptible to many environmental hazards. Rain and snow can cause wooden ladders to rot and weaken the integrity of the supports. Although it's best to keep ladders in a covered and dry location like a garage, that's not always possible. Many contractors store their ladders on ladder trucks and thus the ladders end up exposed to the elements. Even if the ladders are housed in an enclosed area, they still have to get to the work site. A contractor can't close for business due to rain. Aluminum step ladders are resistant to weather. Metal doesn't rot. A hot blazing sun and a bitter cold wind are no match for an aluminum ladder. Aluminum extension ladders don't need any special coatings or coverings to protect them from Mother Nature as they are resistant to rust and corrosion.
Aluminum ladders can stand up to fire which is one of the main reasons why they are preferred by fire departments. Aluminum won't succumb to pests. It doesn't absorb water and it won't easily crack or warp.
Due to being lighter than fiberglass or wooden ladders, people will select aluminum ladders to make a job a little bit easier. Children can help out with projects at home and women may find that a lighter ladder will make maintaining a house a bit easier. The mantra "the right tool for the right job" holds true even for ladders.
On average aluminum ladders are cheaper than fiberglass ladders. An aluminum ladder for residential use will cost between $30.00 to $70.00 dollars. There are specialty and heavy-duty aluminum ladders that cost more. Although the initial cost of wooden ladders tends to be less, wooden ladders need up-keep and must be replaced a lot more frequently than aluminum ladders. After factoring those expenses, timber ladders cost more over time.
Aluminum ladders are also an environmentally conscious choice. Aluminum is the third most abundant element in the Earth and aluminum is easily recycled. The durability of aluminum will provide many years of reliable use, but eventually all tools will show wear and tear. Grit and dirt can get into the hinges of any ladder or an accident on the job can damage a ladder. When the time comes to replace an aluminum ladder, they do not end up in landfills.
Women may find the aluminum ladders a symbolic choice even if they have no problems dealing with the weight of wooden or fiberglass ladders. The second CEO of the Aluminum Ladder Company was a woman and it was one of the first companies ever headed by a woman. Helen Cramer fought against social traditions when she took control of her father's company in the 1940's. Not only did she deal with men who refused to conduct business with a woman, but the IRS insisted that her salary get cut because it was too much for a woman to be paid. There are historical, environmental, economical, and practical reasons to use an aluminum step ladder.
Regardless of the reason why someone wants an aluminum extension ladder, they need to know that the ladder will stand up to the job. Ladders need to be strong. No one wants their foot to break through a rung while standing ten feet above the ground. Aluminum is a strong metal. The tensile strength varies depending on how the aluminum is manufactured, but the tensile strength of commercial grade aluminum typically varies from 90MPa to 180PMa and certain types of aluminum alloys can reach up to 570MPa. The tensile strength combined with aluminum's density makes it a desired alternative to steel. All ladders come with load ratings. Due to the strength of aluminum, there's an aluminum ladder tough enough for any job.
Aluminum ladders are extremely versatile and can be used for any project. Most people know that aluminum conducts electricity and special caution should be heeded when using an aluminum ladder while conducting electrical work. It's now possible to purchase insulated aluminum ladders to ease these concerns.
There are several types of aluminum ladders. Lean-to ladders are what most readily come to mind when people think of a stereotypical ladder. A simple inverted "V" used around the house. Aluminum can be molded and curved which allows for the design of ladders that bow out at the bottom. These are very stable ladders. Small platform ladders provide a wide step at the top and cross beam for safety. Aluminum roof ladders have curved bars at the top that will "hook" onto a roof and allow more stability.
Scaffolding ladders with their multitude of hinges and strong sections allows someone to safely work on larger projects. Aluminum scaffolding trestles can safely accommodate even larger jobs.
Stairs have always posed safety risks when a ladder is needed. The uneven nature of the steps makes it too dangerous to use anything other than a stair ladder or a combination ladder. Combination ladders are an excellent "catch all" ladder for around the home and a necessity for a business. The locking hinges on a combination ladder allows for various set-ups. A typical aluminum combination ladder provides a stair ladder, an extension ladder or a lean-to. Combination ladders and scaffolding ladders made out of anything except aluminum tend to be too heavy for most people to carry.
From a simple step ladder used inside the home to a fifty foot telescoping extension ladder, they can all be made with aluminum. With all these choices it may be difficult to figure out what type of aluminum ladder would be best for the job. Always consider the type of ground or flooring that will be underneath the ladder and the height that's needed.
Aluminum ladders are manufactured all over the world and they can be found in homes and businesses. They're reliable and durable and come with an interesting history.
Related Posts