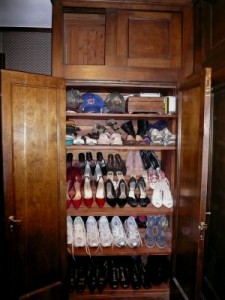 <>
If you have hundreds of shoes and they are in a pile at the bottom of your closet, or it takes more then 5 minutes to find a matching pair of shoes, you might just be in desperate need for a shoe organizer. Depending on how many shoes you have and the type of closet space you have, will determine what type or size of shoe organizer you will need.
You can purchase types of shoe closet organizers ranging from a full wall organizer with shoe shelves from top to bottom, or is space is an issue, you can purchase a hanging shoe closet organizer, or even a floor organizer.
If you have an entire closet dedicated to shoes, you can create a shoe organizing design similar to what you might see in a fancy shoe store. You can either have a shoe organizer built for you through companies such as California Closets, Closets By Design or Closet Works, or you can go the "do-it-yourself" route. If you choose to build your own shoe organizer for closets, you can get all of the materials you need at a Home Depot, Lowes or any other hardware store. Many times you'll find packages in a hardware store that contain all of the supplies you would need to build your own closet organizer.
If you don't have the space to devote an entire closet for your shoes, then you'll have to go with a more simple idea. Some of these ideas are getting a floor rack which can come in different types of models ranging from layered racks for more shoes, or a single rack for not as many shoes.
Another idea, would be to build a small set of shelves at the bottom of your closet to take up the width, while not affecting hanging clothes. You can find a shoe shelf set that is already put together, or you can also go to the hardware store and an unfinished model and make it your own. A shoe shelf makes organizing shoes easy and neat.
Lacking floor space can be a cause for disorganization when it comes to shoes, but have a little excess space on your closet rod, you can find a hanging shoe organizer. They wrap around the closet rod and extend down to a few inches from the floor. These types of shoe organizers are best for people who don't have loads of shoes. There are usually only 8-10 shelves in these organizers, and can only hold 1-2 pairs in each shelf. You can find a hanging shoe organizer at any Target, Walmart or Bed Bath and Beyond. These types of shoe organizers usually range from $5.00-$15.00 depending on the size and material used.
If you have absolutely no room in your, floor grounds or ceiling, there is still one option left. You can actually purchase a shoe organizer made for the back of your door. These shoe organizers have to hooks that are flat and lay across the top of your door, while still allowing you to open and close your door. They usually come in either plastic or canvas material and can hold anywhere for 12 to 24 pairs of shoes. The style of this type of shoe organizer is a line pockets that will fit one pair of shoes in each. Having this type of organizer is actually one of the easiest for organization purposes. You don't have to bend down and try to find shoes in the dark, and you don't have to shuffle your clothes over to reach a hanging shoe rack. When you open the door, all of your shoes are eye level and easy to find in just seconds. You can find door hanging shoe organizers at any Walmart, Target, Container store, Bed Bath and Beyond or any closet specialty store.
Instead of digging through your closet and wasting hours every week trying to match pairs of shoes up, find a closet organizer that will fit the style of your closet, and a style that fits your needs. You'll never look back to the days where you didn't have a shoe organizer. It's a great way to get out of the house quicker and less stressed out too!
Related Posts
<>