When you are looking for kitchen window treatments in your home, you may feel as if you have too many options and not enough money. Everyone needs window treatments and we all know how they can make a room look more finished, but how does one choose the right kind of kitchen bay window treatments to meet their needs? The key to finding custom kitchen window treatments is to consider your budget – and abilities, then go from there.
So, let's start at the low end of pricing: there are many different, inexpensive options when you need window treatments for your kitchen but don't want to spend a ton of money. This is where the ability to sew can come into play, since you might find that you get exactly what you're looking for when you can make the window treatements yourself. Whether you're a whiz with the sewing machine or not, however, you should know that you can get some type of fabric window treatments for your kitchen for about $20 or so, depending on the size of the window you are considering covering.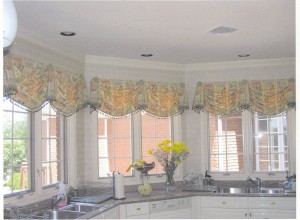 What are you considering for your kitchen? Faux wooden blinds are a good option, because they are more permanent and look professional. If you are considering this option, you should make sure that you can hang them properly and measure them well before you choose to purchase them, because this type of kitchen window treatment, although versatile, can be at the top of your budget with prices usually running from about $30 for small blinds up, depending on the size of your window. These blinds are great, however, because they look nice for years and offer the privacy that many of us really want.
If you aren't ready for the commitment of wooden blinds yet, you can also consider options such as roman shades, which also run from about $30 and up, but are a nice, decorative option for any space. You can also consider purchasing kitchen curtains, which usually are a cafe style, so you will have the valance at the top and the curtains hanging at about the midpoint of the window. Many people tend to stay away from this option, as it can look dated, but it is a more economical choice. In a pinch, you can choose a valance for your kitchen windows, which is the least expensive, but offers no privacy.
If you are good with a sewing machine, you may want to consider making your own modern window treatments for your kitchen. You will likely find that there are a ton of options when it comes to patterns, or you can design your own kitchen window treatments. Pattens can cost anywhere from about $7 to $15, depending on where you buy them and how complicated they are. You should know that sewing your own kitchen window treatments will not be free, because you still have to pay for the fabric, which varies widely in price, depending on what type of material you are looking for, so it's a good idea to keep this in mind when you're shopping for fabric for your window treatments.
While these are the do-it-yourself options and they can save you some money, you should also know that many of the do-it-yourself choices that are available can cost you just as much as if you were to have your window treatments in your kitchen done professionally. Hiring a professional to help you with your kitchen window treatments is often a good choice if you are interested in a permanent solution and don't feel the need to change your decor every year or so.
There are many decorating options which you may not have considered that a window treatment professional can help you to discover. For instance, many people in southern areas love plantation blinds. They are permanent, can swing open and compliment high ceilings and crown molding around many current ceilings. This type of blind can also be customized to match cabinetry and eliminates the need for any other type of window treatments in the kitchen. The same can be said of wooden blinds, which are also versatile, long lasting and customizable. Often, people will choose this option if they want versatility and are interested in window treatments that they will not have to worry about for years to come.
When you choose to get these types of window treatments from a professional, you could wind up paying hundreds of dollars, so if you are on a tight budget, this may not be an option for you. However, if you are looking for window treatments that fit perfectly and will last for years, then this is the choice you should make for your kitchen window treatments.
The companies who deal with professional window treatments can help you to design the type of decorative or privacy kitchen window treatments that suit your needs. If you choose to go with more of a curtain type of window treatment, you should keep in mind that these are custom made to fit your needs, so you will likely wind up paying more for them. Prices vary depending on the size of your kitchen windows and the fabrics you choose. You should also consider the complexity of the design that you choose for your kitchen window before you go crazy picking out the most expensive fabrics and materials for your kitchen window treatments.
Often, when you call a professional, they will come to your home, look at your kitchen, measure your windows and then you will discuss your options. It's important to know that professional window treatments in other rooms can cost you thousands of dollars, so if you have lots of windows that need covering in your kitchen, you should be prepared to spend a substantial amount of money.
In the end, your kitchen is your kitchen and the choice you make on your window treatmens is yours. You should take some things into consideration before you have a professional come into your home to design your window treatments, such as whether or not your plan to remodel your kitchen at some point. If you are planning to remodel your kitchen within five years or so, it's probably a good idea to wait on the professional window treatments for now. Remember that you can get professional looking, decorative do-it-yourself kitchen window treatments for a fraction of what you would pay if you hired a company to install them, but you have to make sure to hang them correctly. If, however, you are ready for a long term commitment with your kitchen window treatments, then having them professionally done will likely be a good home improvement investment for you and your home.
Related Posts