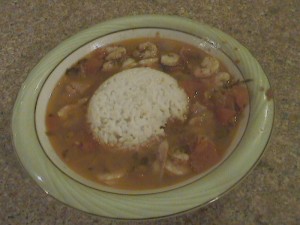 Jambalaya
This is a simple and delicious jambalaya recipe. Traditionally this would be made with a polish sausage. Today I am using chorizo instead, I like the flavor it brings. You can experiment with whatever sausage you like, just make sure you drain the fat off first.
Ingredients
4 cups seafood stock or shrimp boil
1/2 lb. chorizo
1 lb chicken cut into 1″ cubes
1/2 lb. shrimp (peeled and deveined)
1 onion diced
2 garlic cloves minced
16 oz. can diced tomatoes
1 diced jalapeno (seeded)
1 green bell pepper diced
Preparation
In a deep pot cook chorizo until done and drain all but a small amount of fat, set sausage aside. Cook the chicken in the fat from the sausage until done, set aside. Add the onion, garlic, bell pepper, and jalepeno and cook until soft. Pour in the stock or shrimp boil, and add the chicken and sausage back to the pot. Bring to boil and reduce to simmer. After 1 hour add the shrimp, and cook an additional five to seven minutes.
Serving
I like to serve this jambalaya by filling a small bowl with white rice and turning it over into a large enough bowl to serve with the jambalaya poured around it. If you prefer you can just serve the rice on the side. I really prefer having the rice right in the jambalaya.