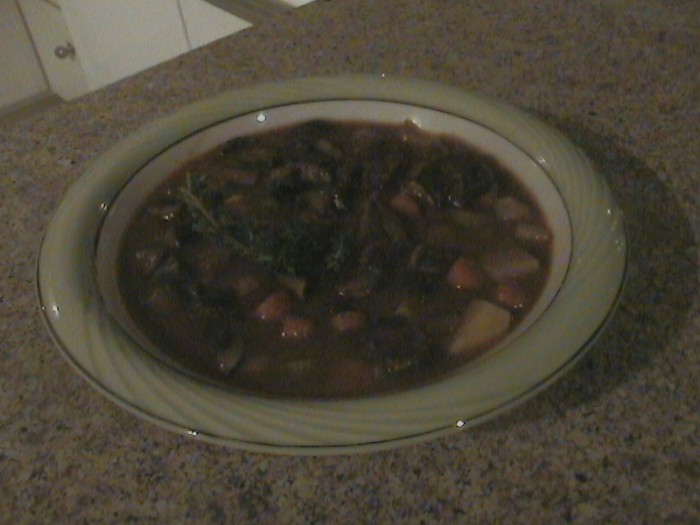 This is one of the richest, most delicious beef stews you can make. It is such a great meal for a cold winter night.
Sometimes in a recipe you can cut the marinating time down, but not for this one. It really does need to go overnight. Plan ahead and make enough for left-overs.
Today I am using a cabernet wine, but you can use any full-bodied red wine, just use something you would drink.
One other note; I like this recipe with red potatoes, or white fingerlings, but today I am using Russet potatoes because that's what I had in the pantry.
Marinade
2 chopped carrots
2 halved celery stalks
1 lg. white onion, quartered
6 garlic cloves, smashed
1 750ml. bottle of full-bodied red wine
3 bay leaves
2 sprigs fresh thyme
2 lbs. beef chuck roast, or beef clod roast, cut into 1" chunks
Combine all ingredients into a zipper bag placed into a bowl for easy handling. Let marinate overnight. Shift the bag around occasionally to mix while marinating. After marinating overnight, strain out the vegetables, reserving two cups of the wine.
Beef Bourguignon
Enough olive oil to coat a large Dutch oven
1/2 cup all-purpose flour
8 ounces slices bacon, cut into 1" pieces
1 large onion, cut into 1/4-inch dice
2 carrots, cut into 1/4-inch dice
2 ribs celery, cut into 1/4-inch dice
2 cloves garlic, finely chopped
1/4 cup tomato paste
2 cups red wine (reserved marinade)
3 to 4 cups beef stock, plus more as needed
3 bay leaves
1 bundle fresh thyme (reserve a few sprigs for garnish)
1 pound cremini mushrooms, quartered
2 cups potatoes, cut to ½" cubes
Preparation
Preheat the oven to 350 degrees F.
Coat a large, wide pan or Dutch oven with olive oil and bring to medium-high heat. Season the beef generously with salt and toss with flour. Add the flour-coated beef to the hot pan; work in batches so not to over crowd.
Brown the meat well on all sides, set aside. Add the bacon and cook until it gets brown and crispy, set aside. In the same Dutch oven add onions, carrots, celery, and season with salt, sauté until translucent. Add in the garlic and cook for 2 to 3 more minutes. Add the tomato paste and cook for 1 to 2 minutes more.
Add the reserved wine and the beef and bacon. Stir to combine and cook until the wine has reduced by 1/2. Add the beef stock to just cover the surface of the beef. Toss in the bay leaves and thyme bundle. Bring the liquid to a boil, cover the pot and put in the preheated oven.
Cook the beef 2 hours, checking occasionally to add more stock, if needed. During the last 30 minutes, add the mushrooms, potatoes, and more stock, if needed.
Remove the pan from the oven, and skim off any excess grease from the surface of the stew. Remove the thyme bundle and bay leaves.
Serving
I like to serve this stew with a nice crusty bread. Garnish with a small piece of thyme.
<>