How to Cook Egg Inside Toast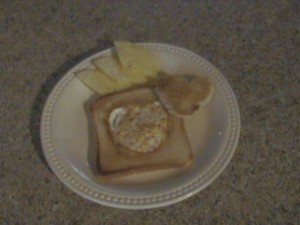 <>
Another boring breakfast with the standard fried egg and slice of toast? This is a simple way to make simple egg and toast fun and exciting to eat. Kids love the customizable shapes.
Ingredients
1 egg
1 slice white bread
1 tablespoon butter or margarine
salt and pepper to taste
Start by heating 1/2 tablespoon of butter or margarine in skillet or 10″ frying pan. Butter both side of the bread with remaining margarine or butter, as you would for a grilled cheese sandwich. Cut out any shape you like, or use a cookie cutter. A simple circle from a small round glass works fine. For this example I cut a heart shape. Just make sure you leave the edges intact or your egg will run out. Lay the cut piece in the pan, this will be used to sop up that yolk. Lay the bread down in the pan on medium heat and toast for about 1 minute. Crack egg into the space where the shape was cut out. At this point salt and pepper to taste. This recipe can also be made using egg whites or scrambled egg mixture, but at my house, we love the runny yolk. Allow the egg to cook over medium heat for 2 minutes or so. Flip bread containing the egg over, and cook for an additional minute or until egg is cooked to desired level. Also, flip your cut out shape to make both sides golden brown.
I like to serve this with seasonal fruit for a well balanced, exciting take on egg and toast.