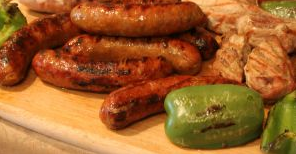 Most Italian sausage is available in both "sweet" and "hot" varieties. Both types can be baked successfully. The following recipes are for fresh sausage, and they should be cooked to an internal temperature greater than 165 degrees. No pink should be showing, though it may be difficult to tell when cooking hot sausage because the spices used tend to color the meat. Always use a meat thermometer.
Baked Italian Sausage Links
Preheat your oven to 400 degrees
Drizzle a baking sheet with olive oil
Place your defrosted sausage links on the pan and coat them in the oil
Place the pan in the oven and bake for about 30 minutes, turning once to brown evenly
Remove the sausages form the oven and place on a platter to rest for about five minutes before serving piping hot and juicy
Be sure to have plenty of crusty Italian bread and a nice salad, along with a glass of red wine, to enjoy with your sausages.
New York Sausage and Peppers
A very traditional Italian American dish is baked Italian sausage and peppers. The sausage is cooked along with vegetables and served as a sandwich on a sub roll or with crusty bread.
You will need:
A large onion, diced
Four potatoes, diced
1 lb of Italian sausage links
Two large bell peppers, cleaned cut into 1 inch pieces
Steps:
Preheat your oven to 400 degrees
Place the vegetables in a baking dish and coat with olive oil, stirring everything well.
Place the sausage with the vegetables in the pan and bake for about 40 minutes until the sausage is cooked and the vegetables are nice and soft.
Remove the sausage and slice them thinly. Place the sausage back in the pan and give everything a good stir. Place a good sized serving onto a sub roll and enjoy!
An alternative method would be to cook the sausage and vegetables separately and combine them before serving. This method allows you to drain the fat from the sausage.
Italian sausage and pasta
Baked Italian sausage can be used to make a delicious penne pasta.
Prepare on recipe for oven baked Italian sausage, slicing the sausage after it has cooled.
Cook 1 lb of penne style pasta
Heat a jar of your favorite pasta sauce
One green bell pepper, diced and sauteed in olive oil
Add the baked sausage and the bell pepper to the sauce and simmer for about 15 minutes. Serve the sauce over the pasta and enjoy!
Italian sausage and beer
One of the best ways to prepare Italian sausage for a party is to bake the links and keep them warm in beer. Serve them with caramelized onions tomato sauce on a bun.
Prepare on recipe for oven baked Italian sausage
Slice three sweet onions and cook until soft and brown in a skillet with a tablespoon of butter and a tablespoon of olive oil
Heat a small can of tomato sauce in a sauce pan
Place the sausage in a slow cooker or in a pan on a low simmer. Add a bottle of beer to the sausage and cook to keep warm. The beer adds wonderful flavor. Serve on buns with the onions and a little sauce.
<>