The garage can become a real clutter monster but it can be easily tamed by using garage storage systems. A simple system will be an array of hooks, racks, shelves and pegboard on the wall. More complex systems would include cabinetry, workshop table, closets, wall units and bins. If the garage is large enough for two or more cars there is more space for organizing and probably equally more need because there is more room for "stuff" to accumulate.
When organizing the garage the first project is to either clear out everything or move it to one side of the area so you can sort out items. Find a trash bin, and two large boxes to start. Throw away junk into the trash bin. Divide the rest of the items into one box for keeping and the other for things you need to think about a little longer. As each gets filled up, find more boxes or another can for waste. There should be only three choices: trash, keep or not sure yet.
Dumping the trash is the easy task. Do your sorting the day before trash pickup so things do not sit around and you do not have second thoughts about retrieving items out of the trash cans. Set the boxes of things you want to keep aside for a moment by stacking them in one spot. For the third box, the "not sure yet" box, go through it again. This time there are only two choices: trash or keep. Be ruthless but if there are good items for resale or to donate separate them out. Get rid of these quickly by taking them immediately to a resale store or donation center. This leaves you with just one stack of boxes of items for keeping.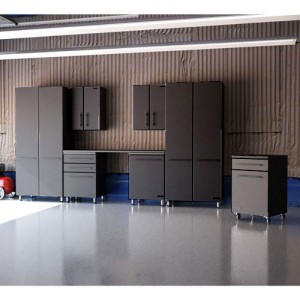 Now that the garage is cleared out you should look around to decide what type of storage systems you want to have in the garage. Go online or to your local home improvement store for an idea of what types of storage units and systems are available. The garage is a great place to store things you do not want inside the house and items that are not going to be ruined by exposure to temperature variations throughout the year. If your garage is doubling as a laundry room or workshop be sure to take those areas into consideration when planning your garage wall storage systems.
Get out a pencil and some paper and make a little sketch of the garage area, using actual measurements but in scale to fit on the paper. This is important when you go to purchase cabinets and storage items. Think about what types of items you will be storing. Do you have sports equipment, vehicle parts and tools, bicycles, trash cans and garden tools? Are there seasonal items like Halloween or Christmas decorations?
Next, prioritize the items you want stored by the access you need to them throughout the year. For example, you probably want any frequently used items to be near the door of the garage. This would include tools, hoses, and trash or recycling bins. Seasonal items can be put near the back of the garage. Tools would go into tool storage cabinets or a tool chest or you can plan to use pegboard for wall hung storage. Things like bicycles can be hung from ceiling racks. Do not overlook the possibility of using the ceiling rafters as part of your garage wall storage system. Some storage units are on wheels for easy moving around, like tool chests. The goal in organizing storage systems in the garage is to have everything easily accessible and kept neat and off the floor. Pegboards will hold an amazing amount of tools and accessories. Use hooks or baskets designed to hang on the pegboards for maximum storage utility.
Nothing adds value more to a garage than organized storage systems. There are many new products to use for this purpose. A nice work environment will also encourage the homeowner to use this valuable space more often. In spacious garages there is plenty of room for creating decent office space with a desk and storage cabinets, a laundry facility with flat areas to use for folding clothes, or a work station for garage and yard duties. Rubbermaid offers a new "Fast Track" system that makes organizing space an easy task with a rail system, cabinets and accessories. Cabinetry materials are wood, metal or plastic and may have locking capability. Use suspension brackets to hang cabinets up off the floor area. This helps prevent invasion by mice, other rodents and bugs that may find their way into the garage.
There are garage organizing kits for small objects and lawn or garden kits for hanging heavier objects. All purpose hooks will support single or multiple tools from the wall. Some hooks include baskets for storage and they support special baskets designed for holding sports balls. Use mesh baskets, plastic baskets or bushel baskets for storage of bulkier items.
Combine cabinetry with shelves to maximize the options for garage storage systems. Shelves are good places to set bins on and if you use clear plastic bins you can always see what is inside. Cabinets with doors help keep the cluttered look to a minimum and give the room a neater appearance. Use adjustable shelving brackets as needed for different size shelving. Wall racks can also accommodate large work rack shelves that can be used as a work table or desk space. Hang ladders on wall racks or ceiling mount systems. There are garage overhead storage systems that allow use of valuable ceiling space without interfering with door opening systems or vehicles.
Investing in storage systems for the garage is a good project that will add value to your home. It is easier to accomplish tasks in an organized room and without clutter everywhere it is a more pleasant place in which to work. Shop online to compare values to get the best products and prices before purchasing.
Related Posts
<>