Advances made in design and material durability have resulted in a wider variety of laminate flooring than ever previously available. Affordabe laminate flooring can be purchased in a number of ways, from many sources, though the quality of laminate will vary greatly depending on the brand and intended purpose. Laminate floors are available to cover any of the floors in a structure, often mimicking wood or other natural surfaces. Replicas of tile and natural wood surfaces are appealing to the designer seeking a sophisticated look at a lower cost than the natural product. Purchasing cheap laminate flooring can cut the costs of a remodel or renovation significantly as long as the product is of a quality that will not need replaced in a short amount of time.
Wholesale prices are available to nearly every consumer. As a result of the slumping economy and growing home improvement market, laminate floor manufacturers and retailers are highly competitive in their pricing. Shopping on-line has become a swift, efficient way to bargain hunt, and home improvement retailers have begun offering more of their products for purchase over the internet. Shipping for cheap laminate wood flooring can make the cost of an affordable laminate floor much higher than a similar product purchased at a local store, though the convenience might justify such a purchase.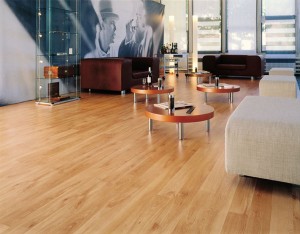 Laminate flooring materials possess an AC rating that represents their durability. Ratings on the AC scale range from 1 to 5, with 5 being the highest. Lower durability will almost often result in a lower cost per square foot, though consumers searching for a cheap laminate floor for a high traffic area should consider ratings in the 3 to 5 range. The cost of a laminate floor before any discount or clearance sale will most likely reflect the quality of the product in terms of material texture and thickness. As a rule, high-quality laminate flooring will be thicker with textured surfaces and a durable backing to prevent water damage and disforming. Lower quality laminates often have a simple paper backing that does little to prevent water damage or shifting.
The cost of a cheap laminate floor can start well below a dollar per square foot. The prices on units of laminate change frequently due to the abundance of supply and shifts in demand for the product. Clearance sales and liquidation events at retailers can often cut the cost of a laminate floor by 75% or more. In circumstances where there is a large sale or wholesale involved, the lower cost is not necessarily a reflection of the quality as much as a reflection of an overstock or closing event. Overstocked or outdated laminate floors sometimes drop in cost by increments over an extended period of time. It can benefit the consumer to hold out for the lowest price possible, though items in a close-out or overstock will usually become unavailable once the current stock is exhausted.
Several companies are famous for their expertise in the laminate flooring industry. Popular home and hardware stores will usually carry a number of brands with discounts to include the delivery and installation. It is possible to install cheap laminate floors without professional assistance, though the additional cost of such a service might still prove costworthy to the consumer with little experience in flooring and installation. A retailer with a large overstock of cheap laminated flooring may be so eager to clear the product from their shelves that a sale price with installation remains well below that of a full cost purchase without installation. On-line reviews are available for nearly every cheap laminate floor on the market. Buyers should be wary of reviews that are not completed by a third party who will remain objective in their determinations as to quality and durability.
Consumers in the market for high quality laminate flooring with a higher price point will still be able to find discounts by searching on-line or through advertisements for local sales events. Even the most expensive products are subject to overstock and discontinuation. The best philosophy when searching for a higher-grade laminate floor at low cost is to aim for discontinued patterns and models. Discontinued merchandise will be pulled from shelves after a certain period of time and will drop in cost heavily beforehand. When the manufacturers choose to push a new line or material, they will grant the retailer jurisdiction to discount prices heavily, sometimes more than half of the original cost, in an effort to recoup as much in sales as possible.
Related Posts
<>