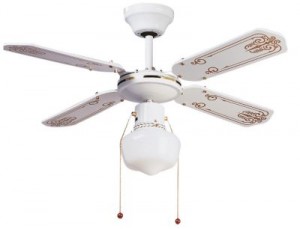 <>
Most homes these days don't have ceiling fans present in rooms. This forces people to either plug in lamps everywhere or hire a contractor to come and put in light fixtures in every room they wish for it to be. Still others have the advantage of having a light fixture, but don't like the amount of light it gives off or the style. Installing a ceiling fan light is one of the best decisions you can make, especially for those high traffic areas.
If you spend the majority of the time in your family room, chances are you need to install a ceiling fan with light in that room. This can be a bit more difficult for those two-level family rooms so unless you have expertise installing a ceiling fan and the right ladder, it might be best to leave that to the experts. If you have a light fixture already in place, however, there is no reason why you can't install a ceiling fan light on your own. Before you go touching electric circuitry, ensure you go to the circuit breaker and turn off the affected area so you don't put yourself at risk for electric shock. It is good to have somebody else present at all times just in case of a short circuit or malfunction when attempting to install the ceiling fan.
Figure out the best style ceiling fan you will like to install. Keep in mind that while a fan with one large light fixture will require less lightbulbs and might have a more elegant look, it won't give off as much light throughout all areas of the room. If you have a large room, it is a good idea to have a ceiling fan with three or even four lights so you can evenly disperse the light. A big decision will be whether to get a traditional ceiling fan with no frills or if you would like to get a ceiling fan that comes with a remote control. While a dimmer switch is also a great idea, note that fluorescent light bulbs won't function properly on a dimmer switch.
Before beginning your ceiling fan install, it is important to ensure you have all the parts you will need on hand. If the light and fan will operate on only one switch, it might be best to get a dimmer switch or a fan with a remote control so you can easily control both the fan speed and the light intensity. It's always best to get two different types of switches in case you find that one doesn't operate the fan properly. It beats having to make multiple trips to the home improvement store and having to stop mid-project in order to go and get a different switch.
A flush ceiling mount is the best way to go, but do ensure the ceiling fixture can support the fan. If a light fixture was already present, there will be a ceiling fixture mount in the ceiling. Some fixture mounts won't be able to hold a heavy fan so you might also want to consider installing a ceiling fan fixture mount to ensure your fan stays in place once installed. Once you have all the circuitry attached properly, be sure to check to make sure the fixture works before finalizing the install. This makes it easier to make adjustments if need be. If you have a helper, they can let you know if the lights have worked once the circuit breaker has been flipped or worst case scenario, if there's sparks.
Installing a ceiling fan and light will be a decision you will be glad that you made. The ceiling fan can move air around the room, which will decrease the amount of energy and money spent on air conditioning. It also can add elegance to a living room or breakfast area. It will also be great to have light at the flip of a switch instead of having to get up to turn on different floor lamps around the room. If you have any doubts, consult an electrician or skilled professional so you can ensure the ceiling fan light is installed safely. Then sit back, relax, and enjoy your new ceiling fan.
Related Posts