We live in a world where we're constantly being bombarded with negative news. We hear about natural disasters, man-made disasters, financial crises, deadly diseases, crimes, fatal accidents, and violence on a daily basis. Sometimes it's hard to remember that there are people working daily to make the world a better place for all of us to live in.
However, at least 60 residents in Carbondale, Pennsylvania got reminded of this niceness during the past week. On June 28th, more than 400 adult and teenaged volunteers converged on Carbondale to carry out various small home repairs and improvement projects for the residents. All the work was done cost-free to the homeowners.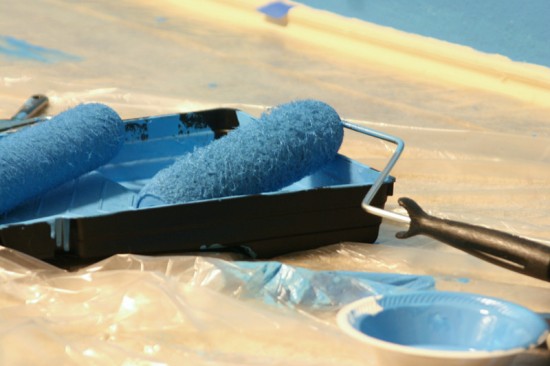 The volunteers and homeowners were taking part in the Carbondale NeighborWorks Week, which was sponsored by the Neighborhood Housing Services (NHS) of Lackawanna County. Believe it or not, the majority of volunteers came in from out of state just to help the Carbondale residents. The volunteers came from various areas of the northeastern United States. They provided services to residents who were elderly, living on low-incomes, or who were disabled. The projects included weatherization, painting, porch/deck installation or repair, and wheelchair ramp construction, as well as other minor home repairs.
Carbondale NeighborWorks Week came about due to the NHS's desire to directly connect homeowners who needed help with those who wanted to provide help. They wanted to do a large scale service project that would have an immediate positive impact, and knew that Carbondale had an older housing stock that needed attention. The recipient homeowners were chosen after a review of the applications they submitted to NHS earlier in the year.
According to NHS executive director Jesse Ergott, NHS is a private, non-profit organization that has been around for about 30 years. NHS helps people to buy their first home, finance major home repairs, and to work with their lender in order to avoid foreclosure. They hope doing so will strengthen the financial stability of the families involved, thus improving the community at large.
Since the Group WorkCamps Foundation (GWF) was set up specifically with this type of volunteer work in mind, NHS asked GWF to join in carrying out the large scale service project. Once GWF agreed to provide volunteers, NHS approached the City of Carbondale with the idea. The NHS expected to spend at least $25,000 on construction materials alone. NHS estimated the volunteer labor was worth about $80,000.
GWF is also a non-profit organization that has been around for over 30 years. It was founded in Loveland, Colorado, after a major flood hit the area in 1977. The faith-based organization provides volunteers for various community sponsored projects on an international level. So far, GWF has organized over a quarter of a million volunteers and have provided about 6 million hours of volunteer services. They have completed over 210,000 projects in Canada, Central America, Mexico, and Puerto Rico, as well as in various areas of the United States.
Many of GWF's young volunteers actually pay to participate in a GWF youth summer camp that puts them to work in a community project. They claim the work is very rewarding and a great way to spend a summer vacation. GWF will be hosting 64 more similar community work camps this summer. The camps will be located ranging from Wisconsin to Carbondale. An estimated 30,000 youth and adult volunteers are expected to participate in these group workcamp projects.
The local communities that are being helped are usually responsible for hosting the GWF volunteers. Usually this is done by providing a local school's gymnasium, cafeteria, and classrooms for a lockdown styled camp out. After the volunteers have spent all day working on a community project, they spend the evening preparing and serving meals to each other, and worshiping together. They also participate in fun events during the evening hours, such as listening to musical concerts or watching drama or comedy performances, and making friends with other volunteers. The volunteers often participate in sports too.
NHS also invited local residents to participate in the Carbondale NeighborWorks Week events. Anyone who wanted to volunteer was assigned to one of the many crews, regardless of their construction skill levels. Each crew was assigned to work on one of the 60 homes, and the local volunteers worked right along with the GWF volunteers. The citizens of Carbondale were also invited to show up at Memorial Park on Monday and Tuesday to welcome and thank the out-of-town visitors.
If you're interested in bringing a Workcamp to your community, you can contact GWF by phoning toll free 1-800-385-4545, or visit their web site for more information. You'll need to do a few things when cosponsoring a Workcamp, but it's well-worth the effort. GWF staff members will gladly assist you with the entire process, from beginning to end.
References:
Neighborhood Housing Services of Lackawanna, PA
The Times Tribune