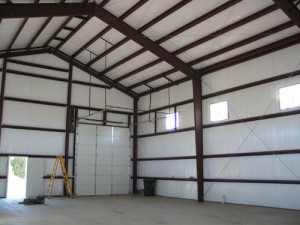 Prefabricated garages are highly desirable when one wishes to install a fairly cost-effective and simple garage structure for their home. Often, a great deal of time will be saved going with this particular method. Since there are multiple designs to choose from, the sky is definitely the limit as to what one could conceivably end up with. Many considerations must be made, from materials of the structure itself to whether hiring a professional will be required. Accordingly, this article will cover each of the aforementioned steps in detail. Hopefully, after all is said and done, what you will be left with is an enjoyable, sturdy structure to add value and usefulness to your home.
Which Prefabricated Garage Kit Should Be Purchased
When deciding upon which kit to purchase, it is first important for you to decide what material you want the structure to be made of. Is wood more desirable for you? What is the weather like where the garage will be erected? How many doors are desired? These are all questions that should be asked before deciding which kit to purchase. Having said this, here are several reputable manufacturers of premade garage structures, including their contact information and how long they have been in business:
Garage Kit Packages by APM P.O. Box 310 46 Gettysburg Street Arendtsville, PA 17303 1-888-261-2488 (telephone) 1-717-677-8102 (facsimile) Years in Business: Forty-Six
Summerwood Products 735 Progress Ave. Toronto, ON Canada M1H 2W7 1-866 519-4634 Years in Business: Twenty-One
Prefabricated Garage Kits, Inc. A division of ClickShops, Inc 509 N. 5th Ave. Ste H Sandpoint, ID 83864 1-208-263-7756 ex. 430 1-208-255-5768 (facsimile) Years in Business: Six
Carports and More 10523 Fair Oaks Blvd., Ste 325 Fair Oaks CA 95628 1-877-275-7048 1-888-376-4428 (facsimile) Years in Business: Six
Average Garage Kit Costs
Depending upon whether you desire wood prefabricated garage kit or a structure made from metal, the prices obviously will fluctuate. In general, you can expect to pay in the neighborhood of $14,000 for a premade wood garage and $4,900 and above if the structure is made from steel or other non-wood materials.
How Easy Will It Be To Install It Myself?
There are many premade garage kits available that are specifically designed for the novice to install. One can completely erect their garage often within just one day. Since the structure comes already constructed, it is quite easy for one to do themselves. Where you may need a contractor's help is if you choose to have electricity for your garage structure. Should you desire this, you will likely need to hire an individual to do the proper wiring which will be required.
Finding A Contractor
The MOST important aspect of deciding upon a contractor is that this individual is both licensed and insured. Countless home improvements are marred with horrid memories by inept individuals who have neither the skill nor the licensure to work on such a project. Therefore, many headaches can be avoided if one secures personal references before hiring this person. An excellent resource for this would be to contact the National Association of the Remodeling Industry. They should be able to provide you with a list of members in your particular area. Another resource is often a local building inspector, who should be familiar with local contractors who meet the appropriate building code procedures. In order to pick the right contractor for this type of project, it is best to ask the prospective worker the following questions:
What projects are they most skilled in working with?
Have they got appropriate references to show you from past clientele?
If they work with subcontractors, how long have they been doing so?
Do they have multiple projects they work on at the same time? This is crucial in that problems may occur with the project. You do not want to encounter difficulties reaching your contractor because he or she is too swamped to get back to you.
Are they licensed, bonded and insured?
Once these questions have been asked, you will generally be able to get a sense of this person's reliability and professionalism. But do not rely only on the answers the individual provides to you. If at all possible, and if he or she is currently working on a project, ask to visit the worksite itself. This will give you an excellent picture of your prospective contractor in action.
Average Contractor and Electrical Specialist Costs
Average contractor rates fluctuate considerably depending upon location, but a starting point would be roughly $27.00 per hour for a certified construction contractor and $25.00 per hour should you require the help of a certified electrical specialist as well.
Is A Premade Garage The Way To Go
Garage structures will often add monetary value to a home, so they are quite a valuable addition should one not already exist or if a rebuilt garage is desired. Given that prefabricated garage kits come mostly preassembled, depending if one is fairly adept with a hammer, screwdriver and ladder, self-installation is an easy route to take. If hiring a professional to install the kit is desired, there are many different individuals to choose from. Whichever route is taken, proper research is suggested before proceeding. When these steps are fully undertaken, the result will most likely be very successful.