Laundry room cabinets are a necessity even if your laundry room is just a pass through hallway between the kitchen and the garage. There always is need for storage in a residence and having some shelves or cabinets in the laundry room is no exception. Cabinets with doors that close or slide shut not only provide a place to put things out of sight but they also avoid the messy cluttered look in a room. Having a place to put things and space for folding freshly washed and dried clothing really helps keep the room nicer and encourages the person doing laundry to finish their job.
Cabinets can be installed over the laundry appliances. If the washer and dryer are large it may be necessary to provide a step stool in order to reach up and to the back of the cabinet. Having a flat top cabinet right next to the appliances gives extra space for processing laundry and can be used as a folding area for clothing that comes out of the dryer.
Another cabinet configuration that is possible if there is enough room would be a floor to ceiling array of several cabinets and/or a tall cabinet. Use these for storing cleaning tools, brooms, laundry accessories or for an ironing board. If the room is large enough it might be possible to make it a combination laundry/sewing room. This is convenient because laundry can be done while working on sewing projects and the room can be set up so there are some large flat areas to use for cutting fabrics as well as folding clothes.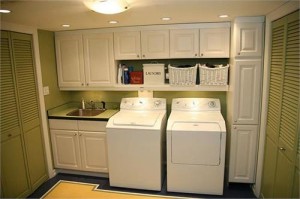 To determine what type of laundry room cabinet will best fit into your room or laundry space begin by taking some measurements of the available cabinet area. Decide how you want to use your cabinetry and what types of items will be stored in them. Make the investment in cabinets for the laundry room pay off in terms of convenience, utility and best use of available space.
Make a little drawing of your laundry room or space and pencil in the type of cabinetry you would like to have in the available spaces. Before you begin, go to either a home improvement store or website and look over some cabinetry. You will want to write down some dimensions of stock cabinets that you can buy preassembled. Also consider the type of materials you want your laundry room storage cabinets to be made from, such as wood, plastic or metal. When you have your sketch completed you should be able to better imagine what the finished area will look like and if it will serve your needs well. If you are not good at drawing there are some computer software programs that will make architectural drawing very easy even for beginners to use.
When you do decide to purchase cabinets for the laundry room be sure to check out prices at online retailers as well as your local home improvement stores for the best deals. If you are ordering from an online outlet you will have shipping direct to your home and not have to worry about how to get large cabinets home and into the house. You will still need to arrange for installation of the cabinets.
Laundry room wall cabinets add value to your home and utility to the room. They will beautify the room at first glance and over time as they help hide clutter. An alternative would be to use shelving or combine shelves with cabinets for mixed open and hidden storage. Large cabinets are able to hide laundry baskets and hold hampers for dirty clothes. Use cabinets for added safety to store away chemicals and laundry soaps, powders and liquids like bleach. This is especially important if there are small children in the home.
Laundry cabinetry is available in many types of materials. There are metal cabinets, wood cabinets and plastic cabinets. Colors and different finishes are available to match your existing décor or create a new look for the room. Whatever you select should add beauty and utility to the area. Start with a few cabinets or do the entire area. When finished the cabinets in the laundry room will be as important as cabinets in the kitchen!
Cabinets can also hide room design problems like exposed pipes and other unsightly things you may not want to have visible. If an area is prone to any type of water accumulation at all be sure to use cabinets with footing at the bottom level to raise them up off the floor.
For styling choose large full cabinets, cabinets with shelves or divided spaces, cabinets with or without doors or have some cabinetry custom designed for the room. Prices will vary depending upon what materials are used, sizes, design, finish, colors and where you purchase them. Custom cabinets will be pricey and stock cabinets will be easy to find, affordable and ready to go when you are ready to go get them. Prices will also depend upon what store you are purchasing from. Outlet retailers in town and online will have the lowest prices but you would have to arrange and pay for delivery and installation.
Take some time to design your laundry room and cabinet array, even adding a large wall clock could add a lot; you will be spending some time in the area and they are a valuable addition to your living space. Cabinets help make the most of available space and make unusable spaces useful. Designing your cabinets can be fun and a good project for the entire family because everyone will benefit and also you can add other cabinets to your home including pantry cabinets.
Related Posts