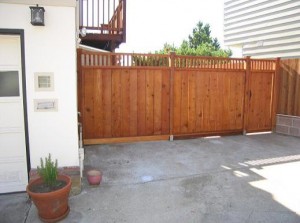 One of the most affordable and effective ways to improve the appearance of a backyard is to stain a fence. While properly staining and old fence can give your whole yard a fresh and new appeal, not properly staining a fence can lead to a very sloppy appearance. When staining a fence, there are various steps that must be completed.
The first step in staining a fence is to gather all necessary supplies. You will need paint or stain remover, sandpaper, a few brushes, and wood stain. When selecting a wood stain, you need to ensure that you select a protective wood stain that is designed for outdoor use. Furthermore, you should select a shade of stain that matches well with the natural wood color.
The next step in staining a fence is to prepare the fence for the stain. If your fence has been previously stained or painted, this could be a rather time consuming process. You will need to ensure that all existing pain and stain has been removed from the fence. The most effective way of doing this is by using paint or stain remover. Once the paint or stain has been removed, you will need to sand and clean the fence to ensure it is smooth and free of any excess debris.
The next step in staining a fence is to apply the stain to the fence. It would be best to apply the stain on a day when the weather forecast is free of rain. While stain will dry relatively quickly in the sun, it could be washed away if it rains within a few hours of application. Prior to applying the stain, be sure it is properly mixed. With the use of a paint brush, apply the stain evenly to the fence boards. When applying the stain, be sure to use full brush strokes and to always brush up and down across the board.
Since painting a large fence may take a few days, you will not necessarily have to complete the entire job in one day. However, be sure that you do not leave any fence boards partially uncompleted prior to taking a break. Depending on the stain you have selected, you may need to complete two or three coats. Be sure to allow the first coat of stain to dry thoroughly dry for at least 24 hours prior to applying the second coat of stain.
Related Video:
How to Clean & Stain a Deck or Fence