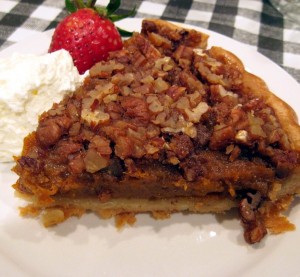 <>
A Southern favorite, sweet potato pie with a sugary pecan topping is a delicious fall dessert that is popular around the holidays. Creamy sweet potatoes are combined with real maple syrup and spices. Chopped pecans are cooked in sugar syrup to make a delightful praline topping that is almost candy-like. Try this delicious pie and it's sure to become a holiday tradition at your house, too!
Serves 8
Ingredients
1 1/2 lbs sweet potatoes, peeled and cut into 2 inch cubes
2 large eggs
1/3 cup plus another 1/2 cup packed brown sugar
3 tablespoons maple syrup
1/4 teaspoon salt
1/2 teaspoon ground cinnamon
1/4 teaspoon ground nutmeg
3/4 cup plus 1 tablespoon heavy cream
1 pie crust for a 9-inch pie
3 tablespoons butter
1 cup of pecans, half of them lightly chopped, the other half whole
Method
Prebake the pie crust (If you use a store-bought frozen crust, you do not need to pre-bake it, just let it thaw for 10 minutes and prick the bottom all over with a fork before using.):
Put the crust into your pie pan and crimp the edge in a decorative pattern. Transfer the pie crust to the freezer for at least 30 minutes. Meanwhile, preheat your oven to 350°F. When the pie crust is chilled, line the pie crust with parchment paper or aluminum foil. Fill at least two-thirds full with pie weights (dry beans, rice, or stainless-steel pie weights). Bake for 20 minutes. Remove from oven, cool a few minutes and carefully remove the pie weights. Prick small holes in the bottom of the pie crust with a fork and return to oven (without the weights) and cook for an additional 10 minutes or until the crust is golden brown. Cool completely before filling.
Make the sweet potato purée: In a large saucepan, cover the sweet potato cubes with water and bring to a boil. Simmer for 15 minutes or until the sweet potato pieces are soft when poked with a knife or fork. Drain and purée in a food processor until smooth. Add a tablespoon or two of water, if necessary, to get a smooth consistency. Let cool completely before using.
Prepare the pie. Preheat the oven to 375°F. Place rack at bottom of oven. In a large bowl, whisk together the eggs, 1/3 cup brown sugar, and maple syrup until smooth. Add the sweet potato purée, salt, cinnamon, nutmeg, and 3/4 cup of cream. Mix very well until completely smooth. Pour into the cooled crust.
Bake the pie: Bake on lowest rack for 50 minutes, until filling has set (fairly firm but not cracked). You may want to wrap the edges of the pie with aluminum foil to prevent the pie crust edges from burning. Cool on rack for one hour. Then transfer to refrigerator and chill completely.
Make the pecan topping: Melt 3 tablespoons of butter in a small saucepan over medium heat. Add 1/2 cup of brown sugar and cook, stirring, until smooth, about 3 minutes. Add 1 tablespoon of cream, and mix in. Add the pecans, mixing to coat the pecans with the sugar mixture. Let cool for 1 minute. Pour mixture over cooled pie. Use a rubber spatula to spread topping over the top of the pie. Cool until topping has hardened, about 30 minutes.
Serve with whipped cream or ice cream.