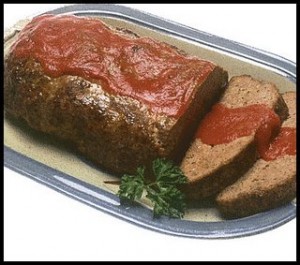 Baked Meatloaf
Meatloaf is one of the most classic of comfort foods. For many people it brings to mind childhood memories of mom's cooking and school lunches. It has the magical ability to take us back to a simpler time, before life became so fast-paced, hectic, and complicated. If you wish to capture that special feeling, try this absolutely delicious recipe for meatloaf today. It is guaranteed to impress your friends and family and to make them feel like kids again.
You will need the following ingredients:
1 lb. ground sirloin or ground beef (depending on your price range)
1/2 1b. ground Italian sausage, either spicy or sweet
1/2 cup finely chopped onion, either red, yellow, or white
1/2 cup finely chopped bell pepper, either yellow or red
2 cloves finely chopped garlic
1 cup thinly sliced scallions
12 crushed Saltine crackers (generic is fine)
1 large beaten egg
1/2 cup whole milk
1/4 cup parmesan cheese
1/2 tsp. salt
1/2 tsp. pepper
1 cup chopped fresh basil (it must be fresh, not dried)
1/3 cup ketchup
4 strips bacon
Preheat your oven to a setting of 350 degrees. Place all of the ingredients except the ketchup and bacon into a large mixing bowl. Using your hands, very gently work together all of the ingredients. Make sure you do this very gently. If you are rough with the mixture, the meatloaf will not be as tender and juicy as it should be. Mix it together until it is roughly mixed. Grease a 9×5 loaf pan. Any kind of grease will work, as long as you grease the loaf pan well. Place the mixed ingredients in the greased loaf pan. Use a spatula to level the meatloaf mixture in the pan. Now pour the ketchup over the top of the meatloaf. Use the spatula to work the ketchup evenly over the meatloaf. Finally, place the 4 strips of bacon over the top of the meatloaf. You are now ready to cook the meatloaf.
Bake the meatloaf in the 350 degree oven for exactly one hour. Do not let it overcook, or you will end up with a dried out and less juicy meatloaf. Take the meatloaf out of the oven and set it out to cool for ten minutes. After the ten minute cooldown, remove the 4 strips of bacon from the top of the meatloaf and discard them. The bacon is discarded because it will be tough, dried out, and flavorless after cooking in the oven for an hour. The bacon will have dripped all of its flavorful, juicy goodness down into the meatloaf. That is the secret to this recipe. The meatloaf acquires all of the magical deliciousness that is the essence of bacon.
Serve the meatloaf with other comfort foods that evoke childhood. Some great choices are green beans, macaroni and cheese, green bean casserole, and baked potatoes. Be sure to have a nice frosty glass of milk with the meatloaf as well. Your guests will absolutely love the feeling of nostalgia that a meal like this brings to them.
Although this is my favorite meatloaf recipe, there are many other versions of this classic comfort food out there. They range from the exceedingly simple to the fancifully gourmet. Don't be afraid to try out different versions and see what you like best. You can even use elements from different recipes to make your own creation. Here are some websites that have other meatloaf recipes.
References:
Food Network: Meatloaf
Recipe Tips: Meatloaf Recipes