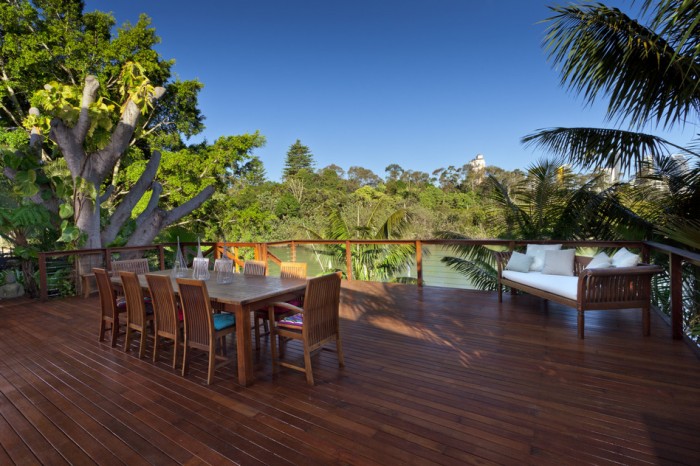 It is that time a year again when homeowners start thinking about making outdoor improvements to their homes. One of the most popular outdoor home improvements is adding a deck in order to better entertain family and friends. Thus, the question of "How much does a deck cost?" frequently arises.
Price Range of Building a Deck
The 2013 price range for building a deck in the United States is approximately $19 -$65 per square foot. This includes the cost of materials and labor, but does not include sales taxes, building permits, or inspections. Nor does it include the cost of removing any existing structures. So anyone planning on building a deck should budget a minimum amount of $7,600-$26,000 for a 400 sq. ft. deck.
Choice of Decking Materials
A person's choice of building materials has the most effect on the final cost. The current standard choice of materials consists of types of wood, vinyl or composite decking. Each of these materials has their own advantages and disadvantages. Some seem more economical but end up requiring more maintenance than the more costly materials. Thus, despite being immediately more economical they are more costly on a long term basis. Other materials have the advantage of being more durable, while others have the advantage of requiring less maintenance. Some have the advantage of being easier to work with while others offer a wider selection of colors and patterns.
Estimated Cost by Material Choice
Although the prices will vary according to location and supplier, the following list of commonly, used materials will give you a general idea of what to expect. These prices are based on having a contractor purchase and supply the materials at his or her discretion when building a standard deck:
Treated pine – cost of materials: $7-$8; cost of labor: $12-$16; total cost: $19-$24 per square foot
Cedar or Redwood – cost of materials: $8-$9; cost of labor: $12-$18; total cost: $20-$27 per square foot
Vinyl – cost of materials: $11–$19; cost of labor: $14–$22; total cost: $25–$41 per square foot
Composite – cost of materials: $15–$27; cost of labor: $18–$28 total cost: $33–$55 per square foot
Exotic wood – cost of materials: $17–$33; cost of labor: $18–$32 total cost: $35–$65
The aforementioned pricing is based on the fee per square foot for building a single-level deck with a minimum 120 sq. ft. of deck area on a flat surface up to 5' above ground level. It does not include stairs, multi-level decks, custom designed decks or decks smaller than 120 square feet. These factors will increase the total cost.
Other Cost Factors
As with most home improvement projects, the size and location factor into the cost of building a deck. Local building codes, sales taxes, permits and licensing requirements, and building inspections may also affect the total expense. Additionally, whether the project is carried out as a DIY or contracted professional labor will factor into the price. Moreover, the complexity of the deck design will highly affect the total cost.
Worthwhile Investment
Although the price may seem steep to those homeowners on a tight budget, building a deck can be a very worthwhile investment. It has been estimated that 75 per cent of the deck building cost is recovered within the first year of its construction. Not only does a deck provide an additional living and recreational space for the family, it also adds value to the home for resale purposes. So now that you know how much a deck costs, you can start working on financing this wonderful addition to your home.
<>