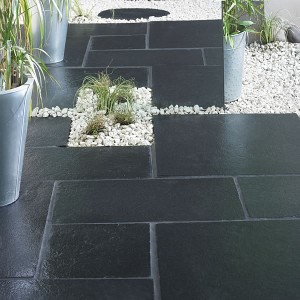 <>
Garden paving slabs are practical and charming solutions that will transform your lawn or garden from bleak to fascinating. Exterior paving can be used to design pathways, as borders to protect flower or herb gardens, or decorative stepping stones to enhance your yard. Durable and weather resistant, garden paving slabs can be professionally installed, or by homeowners who'd rather do it themselves.
Available in an array of shapes and sizes, garden paving slabs can be purchased in pre-cut, easy to install pieces. Paving slabs can also be created by mixing and pouring concrete into shaped forms. This method of installation should only be considered if you can mix the concrete to the right thickness.
Prices for paving slabs range from moderate to expensive. The cost of your garden slabs will be determined by the type of material and quantity. Local and online garden suppliers offer pre-packaged paving slabs with free price estimates for the materials that you need. Stone and mason suppliers can take large orders for recycled or pre-cut paving slabs.
Garden paving slabs are manufactured in a variety of natural materials. The following is a list of some popular types of paving slabs and their uses.
Clay:
Produced when clay has been fired at two thousand degrees, clay paving slabs are available in beveled or antique tumbled. Tumbled pavers are recycled bricks that were previously used in other hardscape projects such as a street or courtyard. Their authentic antique look makes them the perfect choice for a garden boarder or walkway. Bevel-edge garden paving slabs are chip and weather resistant, with long lasting color that will not fade.
Concrete:
Unlike the dull sidewalk variety, concrete paving slabs for the garden come in many different colors and shapes that will compliment your home's decor. Favored for their long lasting durability, concrete slabs can be used as simple garden pavings, or to create an intricate courtyard design. Typically found in driveways or pathways, concrete pavers interlock for easy installation.
Natural Stone:
Natural stone paving slabs are produced by cutting large pieces of natural stones into smaller paving slabs. Able to withstand recurring freezing, thawing, and heavy traffic, natural stone paving slabs can last for many years. Garden paving slabs made from natural stone may have a split or smooth edge, and can be purchased in a variety of natural colors. The most common types of natural stones are granite, limestone, and sandstone.
Granite:
High traffic areas such as driveways, pathways, and courtyards are typically paved with granite paving slabs or stones. Durable and sturdy, paving slabs made from granite can be used for garden paving, driveways, courtyards, or walkways. Three familiar varieties of granite paving slabs are tumblestone, sawn edge, and split edge. Tumblestone pavers have two sawn sides, and have been tumbled for a natural antique appearance. Sawn edge pavers are cut with a specific type of saw that leaves a smooth edge, and pavers with rough edges that have been splitter cut are called split edge.
Limestone:
Lighter than granite in color as well as weight, limestone paving slabs also have two sawn sides, and are tumbled to achieve a particular look. Available in natural shades and eye catching colors, limestone pavers can be used as boarders, walkways, or paving slabs for the garden. Useful for nearly any kind of paving application, limestone slabs are fairly affordable.
Sandstone:
Because it is absorbent and durable, sandstone is favored by homeowners who live in wet climates. Sandstone naturally filters large volumes of water throughout the paving slabs. Manufactured from sedimentary rock, shades and colors are determined by the geographic location of the quarried rock. Irregular shaped sandstone paving slabs can be used as stepping stones, driveway boarders, or around the pool. Cut sandstone can be used as garden paving slabs, or for patio flooring and outdoor cooking areas.
Permeable:
These paving slabs are a series of interlocking bricks that are used to reduce rain water runoff. Permeable pavers allows water to drain below the surface where it is filtered back into nearby water tables. Ideal for driveways and walkways, permeable paving slabs are beautiful and environmentally friendly.
Enhance your scenery with garden paving slabs to create an elegant backyard oasis.
Related Posts
<>