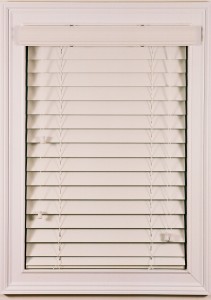 <>
If you ever watch any of the home makeover type shows you will hear the term faux wood blinds. Whether the show has a premise to help people sell their house, or re-design a room one of the best ways to get a new look on a budget is to use faux wood. Faux wood simply means fake and it can be used to make a lot of things, but mostly it refers to window treatments. The reason designers love to use them so much is because they provide a near identical look to real wood blinds at literally a fraction of the cost.
While a set of blinds made of real wood will cost between $65 and $100 per window, faux wood blinds will be between $40 and $50 dollars per window. If you are looking to up-grade the look of a room either because you are trying to sell a house or just bring in an up to date look that is a difference of $20 to $50 per window. If you consider there are on average 3 windows in a room you can save a few hundred dollars by going with faux wood over real wood. If you are designing on a budget is a lot extra money you can use on other eye catching areas of the home like the light fixtures.
Faux wood blinds can be made of aluminum dipped in plastic or polyvinyl materials coated with a veneer. There really is not too much difference in the look of the blinds whether you choose aluminum or vinyl because either way they will be coated and painted to look like real wood. Faux wood does give you a few more benefits in the way of up-keep and maintenance.
Because the blinds are plastic they can be cleaned easier and with more diverse group of cleaners, for example if you have kids and a busy life you may not have the time to get out a special wood cleaner in addition to everything else to clean the blinds. With faux wood you can use the same ammonia based cleaner you use on the window to give the blinds a wipe down. Additionally because the blinds are not subject to moisture they will not warp or bend should they be used above a sink or bath tub.
You can get faux wood blinds in all the same styles and colors you can get regular wooden blinds in. Mechanical or automatic blinds are popular as well as faux wood plantation shutters. Automatic are nice because you can use them in really hard to reach windows, while plantation shutters allow the most amount of natural light into the home.
Because faux wood blinds were made to replicate the traditional wood blinds there really is very few limitations on the colors you can choose. From white, to cherry to premium stains like mahogany you can get blinds to compliment whatever color scheme your home currently has.
Picking the right blinds for the room can be particularly difficult. The reason is because while you are at the store you are looking at the blind as a whole, while back at home it will be just a part in the greater whole. If you are buying them to increase the value of a home you are trying to sell, remember the blinds are just a tool to magnify the natural light the home already has. Don't try to guess what they new owners will like so stick with a neutral lighter color that can compliment anyone's new furniture.
If you are buying them for yourself, make sure they match the design of the home by bringing home a color sample and placing it on the window. In the end it is your home so you are the one who will enjoy them day in and day out, however, common convention would advise you to pick a color that will work with current and future furniture.
Related Posts