Father's Day was first celebrated in 1910, after Sonora Smart Dodd, of Spokane, Washington adamantly fought to have fathers nationally recognized for their importance to the family. She felt that good fathers who weren't living up to the reputation of being sleazy, drunk, and lazy should be given just as much credit for the family's well-being as the mother was being given.
Grace Golden Clayton of Fairmount, West Virginia, is also accredited with the founding of Father's Day. However, she campaigned for it on a more local rather than national level. Even though Mother's Day caught on quickly, Father's Day was slow to be accepted as a national holiday. Mother's Day was designated a holiday in 1914, but Father's Day didn't become a permanent national holiday until 1972.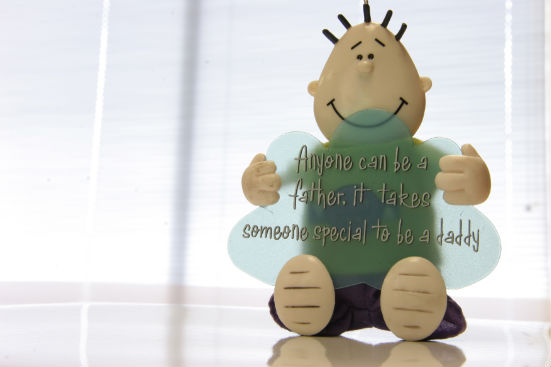 In the past hundred years, social perspectives of fathers have drastically changed. Before 1910, fathers were usually profiled as being tough, practical, strict disciplinarians, and unsentimental. Fathers fulfilled the role of being the family's hard working financial backbone and generally went un-noticed as human beings by other family members.
Later, in the early 1900s, fathers started earning the reputation of being sleazy, drunk, and lazy, especially as single mother household rates rose higher. Either perspective projected images of fathers who seldom spent time with their children. Thus, Father's Day gifts were mostly impersonal type items, possibly with a monogram added to the item to make it more personal.
Now that modern technology and social gender roles have changed, fathers have been able to participate more in family life. Fathers are now usually profiled as fun-loving and caring, as well as hard working and strict disciplinarians. A change in the types of gifts given to dads has occurred due this altered perception. Family members now realize that Dad may want a gift that has nothing to do with what he needs. Dad may have hobbies and other interests besides work. These hobbies, interests, and emotions create a much wider range of possible gifts for Father's Day.
This year's popular gift ideas are very diverse. They range from giving Dad a roll of duct tape to creating a special "man-cave" for him. Although tools are still included as popular gifts, the recommended tools are now tools used for hobbies rather than work related. Or they are tools that can be used for both pleasure and work. Paul Bianchina, writing for Inman News and NewsOK, suggests getting the following tools as gifts: Final Cut 7¼-inch saw blade, Craftsman cordless pruner (Model 74431), Tek4 Audio plus noise suppression headphones (Model RP4530), Dremel 8200 cordless rotary tool (Model 8200), Black & Decker 24 Volt cordless trimmer/edger (Model NST1024), and a Bosch Pocket Driver (Model PS21-2S).
The ideal gift will depend on the individual dad. Customized apparel is considered suitable, especially if it relates to hobbies or favorite sports. Glenn Haege, a columnist for the Detroit News, prefers gifts like foam, rubber soled covers for work boots and shoes, form-fitting work gloves with gripping capabilities, a tool for cleaning grooves and crevices, a fire pit/grill mat, or a snow melting mat for the porch and sidewalk. Yet, Tim Spiro, who has collected sports and celebrity memorabilia for more than 40 years, would like more space for his "Spiro Hall of Fame" man-cave.
Broadcaster and show host Kevin Rolston prefers spending a day with his kids without them complaining, doing the things he did as a kid. He would also like an art kit so he can create rudimentary paintings for his kids, as a returned favor for all the elementary school artwork they gifted him to display. Most of all, Mr. Rolston simply wants a hug from his kids for Father's Day.
Robert Weil, a small business owner from Boynton Beach, Florida, agrees with Kevin Rolston about spending time with his kids. For his Father's Day gifts, Mr. Weil wants a private yacht charter for a dive trip on the Great Barrier Reef, or a special lunch date at his favorite restaurant in Boynton Beach. Most of all, Robert Weil wants to spend the day with his kids so he can enjoy getting to know them better.
Bill Adams, a radio personality at 107.9 WIRK, also agrees with Kevin Rolston and Robert Weil. His dream gift is a trip to see a game at every Major League Baseball park, with his second choice being a beer making kit. However, he thinks the most priceless Father's Day gift is any gift made by his children, even if he can't figure out what it's supposed to be.
So this year, do something memorable with your dad for Father's Day. Take lots of photos and collect souvenirs of the time together. Then as a final gift, help Dad to remodel a space so he can proudly display the photos and souvenirs.
References: NewsOK, The Palm Beach Post, Traverse City Record Eagle