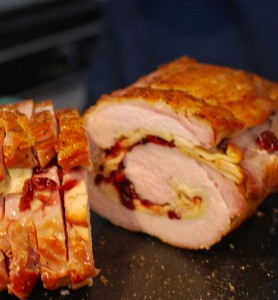 <>
Roast pork tastes delightful with baked fruit,especially apples and cranberries. The sweet tartness of these fruits are a perfect match to the savoriness of the pork. Walnuts, maple syrup, and rosemary add a wonderful depth of flavor (and a little crunch from the walnuts). This dish is the perfect main course for a family get-together, especially in the fall when apples are in season.
Serves 6
Ingredients
1 boneless pork loin (about 3 pounds)
Sea salt and freshly ground pepper
1 cup seasoned croutons
1/2 cup chicken stock (or broth)
2 large Granny Smith apples, peeled and diced into ¼" cubes
1/3 cup dried cranberries
1/3 cup walnuts, toasted and roughly chopped
1/4 cup shallots, minced
2 tablespoons pure maple syrup
1 teaspoon rosemary, chopped fine
Method
Preheat oven to 325°F.
Pat the pork dry with a paper towel. Butterfly the loin: Cut the loin lengthwise about halfway through the meat. Angle the knife horizontally at the end of your first cut, with the knife about ½" from the edge and slice again lengthwise. Repeat for the other side. Unfold the pork laying the meat flat. Cut several small slits in the surface of the meat. Cover with 2 layers of plastic wrap or wax paper and pound the meat as flat as possible with a mallet or skillet. Remove the plastic wrap. Season pork with salt and pepper and set aside.
Place croutons and stock in a small bowl. Let the croutons soak for 5 minutes, or until they have softened. Mash up the croutons a little with a fork. Use a wooden spoon to stir in the apples, cranberries, walnuts, shallots, maple syrup and rosemary. Spread mixture evenly over the surface of the pork. Starting with the short side of the meat, roll up tightly and secure with kitchen string.
Lightly oil the bottom of a roasting pan. Place the roast in the pan and cook at 325°F, uncovered, for 1 hour to 1 ¼ hours or until the pork reaches an internal temperature of 140-145°F (use an instant read thermometer inserted into the center of the meat). Start checking the internal temperature of the roast at about one hour. Let stand for 10 minutes.
To serve: Remove the string and cut into ½" thick slices. Serve with rice or bread.