Today's modular homes span the residential housing market from affordable single-family homes up to high-end luxury homes all with a myriad of available modular home floor plans or the buyer's own design. Modular built housing construction has been growing at above a ten percent rate over recent years. Do modular homes provide the lowest cost per square foot when building or remodeling? Should you consider a modular construction for a starter home, for room addition(s), for a step-up to a larger home, for a vacation home, or for downsizing and retirement? What are the advantages? What is a modular home?
If you plan to build your own "stick-built" home, be prepared to spend 5-6 months and 30 hours per week overseeing and choosing contractor(s). A modular home can save most of this effort and provide substantial savings. Some confusion exists between modular homes, "prefab" or panel-built homes, and manufactured or mobile homes.
Construction of mobile homes requires a steel chassis allowing attachment of wheels. This chassis is also an integral part of the floor system. This designation also allows the builder to cut costs by using very old HUD codes not subject to the usual federal, state, and local codes applied to "stick-built" homes. With panel-built homes, the walls, floors, and other components are factory built by the manufacturer but the assembly of the panels and the majority of work is left to the purchaser's on-site builder(s).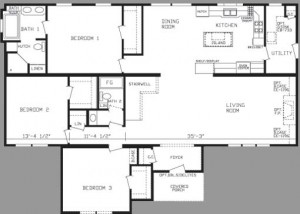 The construction of a modular home is very different. Today modular homes, with recent innovations, are essentially indistinguishable from on-site built structures. Modular construction, sometimes referred to as "off-site construction," utilizes cutting edge technology in a controlled environment and assembly line techniques including computerized design and manufacturing (CAD/CAM) allowing existing floor plans for modular homes or your custom plans to be produced quickly and efficiently.
Most importantly, modular homes must meet and often exceed your local, state, or federal building codes. In addition, modular homes contain about 10% to 20% more lumber than traditional homes, screws replace many nails, and glue is added to joints for more solid construction to withstand transportation to the job site and, in many cases, placement by cranes on the foundations and/or placement of a second floor or dormer.
Pick your house style and modular home floor plan, any architectural style is available in today's modular homesand floor plans. Choose from a 1200 square foot modular floor plan with two bedrooms and one bath as a vacation, start-up, or retirement home: expand to 2000 to 3000 square foot with 3-4 bedrooms and two baths; or add a second floor for 6000 plus square foot 5 bedrooms, 2-3 bath center-entrance colonial and attached three car garage; or something in-between. Styles include ranch, raised-ranch, T-ranch, split level, dormered Cape, two story colonial, Victorian, modern, Spanish, etc.
With walls, flooring, ceilings, doors, windows, closets and stairs; individual "modules" are finished rooms. If you desire, you can include hardwood floors and/or carpeting and assembled pluming and electrical fixtures installed. You can choose vaulted ceilings, skylights, large modern kitchens, granite counters, and premium appliances. Include large bedrooms with walk-in closets, bathrooms with ceramic tile and your chosen fixtures. Attach a garage, an in-law apartment, porch or deck. You can even design your home to include features that make life easier for anyone with disabilities. If you have definite opinions on a floor plan for your modular home and do not see what you like, you can design your own modular home floor plan and work with the manufacturer's designers to implement your design with an appropriate exterior style to match.
Manufacturers can build and assemble modules for a two-story, 2,500 sq. ft, modular home in a week. In the factory, walls and floors are prepared simultaneously on (jigs) and then the walls are lifted into place by overhead pullies/cranes for attachment to the floor. In this way, the walls and floors are assembled with CAD/CAM design for precise corners and angles. Interior wiring is done in the factory, the interior walls are insulated, dry-walled with foam for sealing, and interior fixtures such as cabinets and stairs are installed. Finally, siding is applied.
Hinged-roof systems, to facilitate transportation, are also assembled on a platform to exact size then shingled to specification and either fastened to a module requiring only minor on-site finishing or attached on-site. Completed modules are then sealed and wrapped for transportation to the construction site.
After delivery, the modules are placed on your lot and permanent foundation. The first module is lifted into place followed by a second module and they are connected at the "marriage wall," this continues until all the modules are "married." Roof modules are then positioned and attached. After as little as one day, your small modular home floor plans are complete within a weather-tight structure and ready for any custom site or interior work.
Depending on where you live, the cost of a modular home will vary. With shorter building times and lower costs both on-site and during manufacture, savings of 15% to 35% per square foot (not including property) are a possible. For example, if 85$-$150 per square foot is typical in your area look for costs of $60-$120 for a modular home. Manufacturers can direct you to contractors who specialize in modular home construction or you may hire a contractor(s) of your choice to oversee the excavation and foundation process and finalizing construction on-site.
A modular home is easier and less costly to maintain. Factory installed insulation combined with precision building and additional energy-saving features that must meet EPA guidelines make them 20-30% more energy efficient than standard homes. During planning locations should be chosen for air conditioning, furnaces, heat pumps, water heaters, etc. Often some initial installation can be done in the factory to facilitate final hook-up by your HVAC contractor.
Most buyers of a modular home will need a construction loan allowing them to build "to suit." A construction loan for a modular home built to local, state, and federal building codes will offer the same interest rate as "traditional" construction loans. Additional costs include land purchase and site preparation, building permits, utility hook-ups, and sewer/septic connections.
Related Posts