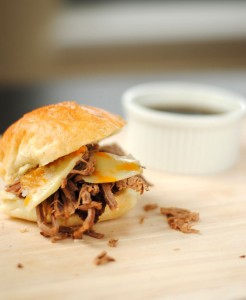 <>
Slow cookers are a great cooking method for Fall, creating warm and hearty meals with minimal effort. This beef dip recipe is great to set and forget, and it will be ready by the time you get home from work.
Ingredients
4 pounds beef chuck roast
1 tablespoon minced garlic
1 tablespoon onion powder
1 tsp dried rosemary
1 bay leaf
5 peppercorns
1 cup soy sauce
6 cups water
Directions
Place the roast in the slow cooker and sprinkle with garlic, onion, and rosemary. Add the soy sauce, water, peppercorns, and bay leaf. Cook on low for 8-10 hours or high for 6-8 hours.
Once cooked, remove the roast from the slow cooker, and allow the au jus to cool. Thinly slice the meat for sandwiches. Scoop any excess fat from the au jus.
I suggest serving the roast in a bun with a thin slice of cheese. The au jus can be placed in a small bowl for dipping. Enjoy!