Pesto is one of the most delicious and versatile condiments you can make. Its great on pizza, as a spread on Bread, tossed with pasta, or put a dollop of a slice of tomato, with a bit of mozzarella for a tasty salad course. I am using Romano c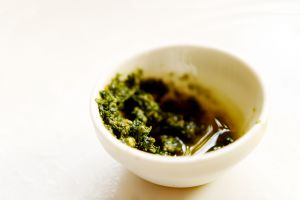 <>
heese today, I just like the sharper flavor. It is more traditionally made with Parmesan, but use a good quality here. Also pine nuts are quite expensive and not very versatile, I am using them today, but I have substituted walnuts in the past. If you do buy pine nuts, either buy just enough for the recipe, or store the remaining nuts in the freezer.
Ingredients
2 cups fresh basil
1/2 cup Romano or Parmesan cheese
1/2 cup extra virgin olive oil
3 medium garlic cloves
1 tsp salt (or to taste)
1 tsp pepper (or to taste)
Combine all ingredients into your food processor, and pulse until ingredients are incorporated and pretty fine. Now slowly drizzle in the olive oil until the sauce in emulsified nicely. It's just that easy!
I love to keep this sauce around. You'll find so many uses for it. I like to freeze it into ice cube trays and just thaw it out. I you choose to freeze this sauce, omit the cheese until you are ready to use the pesto, cheese doesn't freeze well.