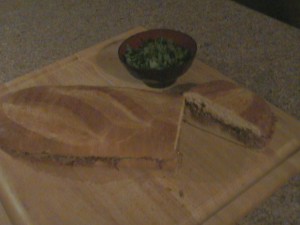 <>
This is a great meal that is easy to make, and the crock pot does most of the work. The key to these tasting great is the flavorful broth that they are braised in the crock pot with. You can experiment with different flavors, apple, peaches, pineapple, or whatever you think will be good. Here is the way I like to make them.
Ingredients
2 lbs. pork shoulder cut into 2″ chunks
1 whole onion quartered
4-5 1/8″ slices of fresh ginger
4 cloves of smashed garlic
1 cup chicken stock
1 tsp. salt
1 tsp. black pepper
Add all ingredients except pork to a large crock pot and turn to high. In a large skillet, brown the pork chunks to seal in the juices and add to crock pot. Cook on high for 2 1/2 hours or until pork is easily pulled apart by fork. remove pork pieces to a bowl and using two forks just pull all the pork apart. Make sure not to get any big pieces of the other ingredients into the pork. Set aside.
I like to to toast an entire loaf of french bread, cut length ways, in the oven until toasted. Remove bread from oven and spread your pulled pork onto bread and firmly press down to set. I usually serve this with coleslaw and BBQ sauce for dipping.
<>