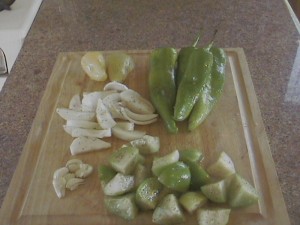 <>
Next time you are craving a meal with south-of-the-border flair, try this one. It is made with pork shoulder, a very tasty and inexpensive alternative to some other pork cuts. Loin, chops, or and other pork cut will work. I do really prefer the shoulder for this dish. Today I am using Anaheim, and banana peppers, but feel free to experiment with spicier chillies, like jalapeno, or Serrano. We like it a bit less spicy at my house. I have used bell peppers in the past, but I didn't like them for this dish.
Ingredients
2 pounds pork shoulder cut into 1″ cubes
5 tomatillos (the green tomato-looking thing with onion type wrapping on it)
4 lg cloves garlic
4 Anaheim chillies
2 banans peppers
1 whole onion cut into large slices
1 bunch of cilantro
juice from 1 lemon
Preparation
Turn the broiler on high. Combine the onion peppers (whole), garlic, and tomatillos (quartered), in a large mixing bowl and toss with vegetable oil, or olive oil. Add salt and pepper to taste. Now, spread these items onto a baking sheet and roast in the broiler for 7-10 minutes per side, or until skin on the peppers start to darken and edges on onion a tomatillo are coloring up. Remove from broiler and cover with foil for 10 minutes. This will make the peppers very easy to peel. Once the peppers are peeled add all roasted veggies to a food processor along with the lemon juice, cilantro, and a bit more salt to taste, and puree until smooth, set aside. Now take your cubed pork and brown it on all sides, in a deep frying pan and drain fat. Add the puree mixture to the same pan and simmer for about 45 minutes, or if you prefer add pork and puree mixture to a crock pot and cook on high for 1-1 1/2 hours.
Serving
This is great along with some white rice and flour tortillas. garnish with a few cilantro stems if you wish. This also makes a great breakfast with a fried egg on top!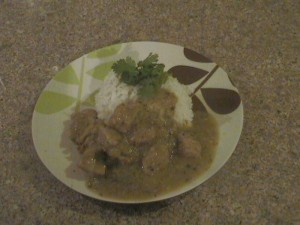 <>
<>