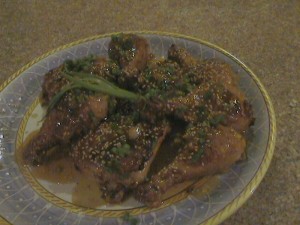 <>
Today I'm making orange chicken. I am using bone-in, skin-on drumsticks and thighs, 4 of each. This recipe can be used for breast, or tenders with skin and bones or without. The key to this recipe is the sauce and marinade mixture. Half of the mixture will be used as a marinade and the other half will be cooked down and reduced for the delicious sauce that coats the chicken. It is a very easy recipe, but there are several steps and marinating time, so it may not be the best choice if you're in a hurry.
Marinade/sauce base
2 tbl. spoons rice wine vinegar
4 tbl. spoons soy sauce
3 cups orange juice
1/2 cup honey
1/2 cup brown sugar
4 lg. green onions (white part only, reserve the tops for garnish later)
1 tbl. spoon minced garlic
1 tbl. spoon minced ginger
1 tablespoon cornstarch dissolved in a bit of cold water
Combine all ingredients except corn starch, mix well. Use half of the mixture to marinate chicken pieces in an air-tight container for a minimum of two hours. In a sauce pan over med. high heat, cook the remaining mixture including the cornstarch until it thickens and will coat the back of a spoon. Set aside and allow to cool.
Chicken Coating
1 1/2 cups all purpose flour
1 tbl. spoon corn starch
1 tsp. salt
1/2 tsp. pepper
Combine ingredients completely. Coat chicken in flour mixture and fry in 1/2″ vegetable oil on high until golden brown on both side, about 7 minutes per side. Remove from oil and place on a backing sheet with wire rack and continue cooking in 350 degree oven for 25-30 minutes more or until chicken reaches an internal temp of 155-160 degrees and juices run clear when poked.
Once the chicken is done, coat in the cooked sauce on both sides by dipping it direclty into the saucepan. Place on platter and repeat for all chicken pieces. Drizzle a bit more of the sauce over the chicken on the platter and sprinkle with finely chopped green onion that you reserved from the marinade ingredients, and a little sesame seed if you have it on hand.