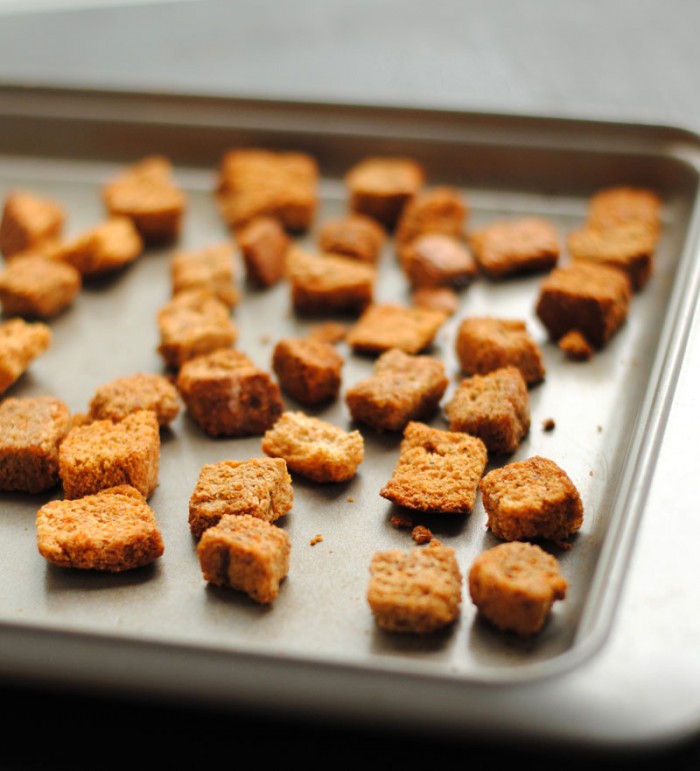 Store bought croutons are so expensive they almost feel like a scam, especially once you realize how easy they are to make. I like to save the ends of bread and stale bread in the freezer until I've accumulated enough to make a batch of croutons. Not only do you get delicious croutons for a fraction of the price of store-bought ones, but you cut down on food waste, too.
Ingredients
2 cups cubed stale bread
2-3 tbsp olive oil
1/2 tsp salt
1 tsp garlic powder
1/4 tsp onion powder
1/4 tsp cayenne powder
1/4 tsp pepper
Directions
Preheat oven to 275F.
Combine spices in a large plastic freezer bag. Gently drizzle the cubed bread with olive oil, tossing to coat evenly, and add to the bag. Seal the bag and toss the contents, ensuring the bread is well seasoned.
Pour croutons onto a large baking sheet in a single layer, and bake, watching carefully and flipping occasionally, until the croutons are golden brown, about 20-40 minutes.
<>